Chicago Fire Review: All In Until the End

Carissa Pavlica at . Updated at .
NBC has been promoting their big crossover event for weeks, and it got started tonight in Chicago Fire Season 2 Episode 20.
The thing is, I don't even think they need to promote events any more. The series have set up an expectation that when there's fire, Firehouse 51 will be on the scene and when a cop is needed, we can expect someone from Precinct 21 to take the call.
I love the world that has been created and sincerely hope there is no intent to stop the intermingling of the series.
With guest stars such as Dylan Baker (earlier this week he was involved with taking a life on The Good Wife, here he's saving them) and Amanda Righetti and their characters forming connections to both the Fire and PD worlds, it's hard not to wonder if we aren't getting a glimpse of Chicago M.D. or Chicago Hospital.
It would work for me!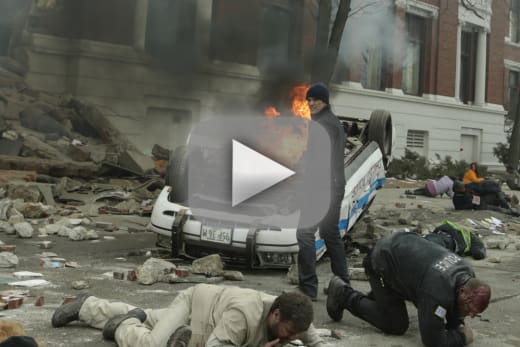 When Casey and Dawson are helping out a big 10K race, Burgess is volunteering in the same tent. Just moments after Dawson enters the hospital to register for the race, it explodes, leaving behind a hole that is eerily reminiscent of the Oklahoma City bombing. I can remember exactly where I was on that day, and it was all the more terrifying because my sister was an FBI agent. Your world squeezes down in perspective when tragedy hits.
Casey maintained his wits and was allowed to carry on his duties despite his personal relationship with Dawson. He and Severide shed their gear and headed into the debris. Mills and Cruz were searching for another bomb. Hermann was celebrating his first day as lead Lieutenant by bringing levity into a horrible situation as he tried to calm down a victim. Everyone was on their A-game.
Burgess' niece was injured in the blast and needed surgery, but Burgess couldn't reach her sister. This was my biggest bone of contention to the hour. There was no way Burgess squirreled her niece away, so her sister had to know when she heard of the blast that there was a possibility they were affected. What kind of parents (and grandparents) don't answer their phones on days like those? I hope there's an explanation on Chicago P.D.
Dr. Arata didn't have time to mess around, and he was killing it with his attitude.
Dr. Arata: Your niece has a crushed liver. If she doesn't have immediate surgery, she's going to bleed out. Do you have the authority to give consent?
Burgess: Consent? I don't know...
Dr. Arata: That's good enough for me.

Later, Atwater showed up to lend Burgess support, but he didn't really know what to do other than watch her cry as Arata told her the liver he wanted to use had gone bad.
Shay was walking near the blast and was hit by some rubble. It knocked her into some exposed rebar and OMG -- she had the nastiest puncture wound. Knowing Dawson was missing, she couldn't take herself off the job, so she patched her self up with some gauze and tape and went about her business.
Within no time she looked like death and her wound had grown in size. When she finally heard that Dawson was safe, she collapsed on the floor. 
The portrayal of the first (and second) responders was very true. When they get on a scene like that, they don't back down and let nothing stand in their way. It's their job to save lives and they'll put their own on the line to do it. That's why so many lives were lost on 9/11. If they even think they can save a life, they push on. 
Boden knew it was a bomb, and tried to warn away a new group of firefighters responding, but they wouldn't back away. When Mills and Cruz found the bomb and the bomb squad was 10 minutes out, Boden went over himself to take care of it. The three of them refused to leave as each took their turns trying to dismantle the timer.
When the Fire Commissioner came on the scene, praising a job well done and telling them to fall back, their weary faces were steadfast and gave the same message -- we're not going anywhere. 
That was about the same time Chicago P.D. showed up and discovered the foreign dude who had earlier flashed his gun at Casey to get attention. He was a Syrian diplomatic security detail or something. That didn't impress Voight.
Voight: Hey friends. I'm aware of your sidearms. I have one of my own.
Syrian: We're diplomatic protection with a legal right to bear arms in this country.
Voight: Not today. I'm going to take your weapons from you. This isn't a question. If you do anything that makes me the least bit uncomfortable, I will end you. Do you understand?
He had been walking around the scene like he owned the place, but couldn't have looked more out of place. Whether it turns out the bombs were meant for the man he was protecting remains to be seen, but using diplomatic immunity and a bad attitude when the country giving you immunity is being terrorized isn't the best laid plan.
We got to see courage under pressure, some pigheadedness and some genuine fear and pain as we set things up to finish out tomorrow night on Chicago P.D. Drop by again to see how it all plays out. You can always catch episodes when you watch Chicago Fire online for more exciting teamwork with Chicago's best!
Would you watch a Chicago medical series?
Carissa Pavlica is the managing editor and a staff writer and critic for TV Fanatic. She's a member of the Critic's Choice Association, enjoys mentoring writers, cats, and passionately discussing the nuances of television and film. Follow her on Twitter and email her here at TV Fanatic.