Everything is by design.
The way Hannibal kills has a design to it, the way Hannibal cooks is by design and his trails of information are by design.
As Hannibal Season 2 Episode 7 demonstrates, Hannibal has a plan for everything in his grand scheme... or his "design."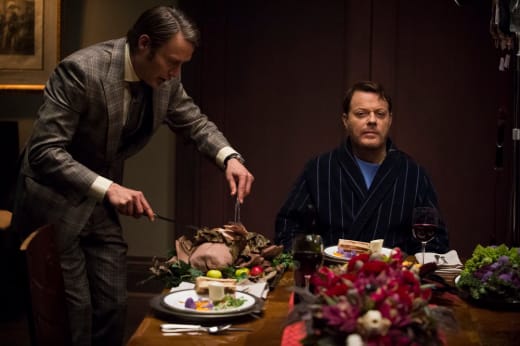 Will and Miriam mention being free, thought neither of them really believe this to be the case since Hannibal is not done. Both Will and Miriam want to be free from their pasts and futures with Hannibal, but the difference soon becomes Will wants to find out everything he can and to truly design his own agenda to catch and put Hannibal behind bars. 
Miriam, on the other hand, is never free because she is still under Hannibal's design. Hannibal's light therapy is nearly God-like in nature and Hannibal illuminates himself to cast a shadow on himself.
This imagery allows himself to become the puppeteer and to play everyone to his ultimate plans and achieve his final designs. 
His final designs are ultimately what brings Hannibal knocking on Dr. Chilton's door to frame him for absolutely everything. Will warns Jack that there is going to be something that points away from Hannibal, Will can see Hannibal's design, but the evidence lines up so nicely that they are forced to follow Hannibal's design to the letter. 
At the property where Will investigates Miriam's jail cell, there's another standing imagery of water.
Will sees his reflection in the water and it echoes more themes of water and fishing that are present in Hannibal Season 2. These themes convey the idea that Hannibal can only be lured out.
Once Will talks with Chilton, this theme finally dawns on him. He even tells Chilton that he's going to catch Hannibal. He doesn't say kill; Will specifically wants to catch Hannibal in the act or to find information that forces Jack to go straight after him.
As this installment points out, even Jack can't follow his gut forever he's eventually going to follow the evidence, no matter how neatly it all comes together. 
The greatest moment of the installment comes in the form of Will resuming his therapy. When Will drops this bombshell on Hannibal, there's a momentary look of confusion that flashes across his face. Hannibal has not planned for Will to come back to their friendship in his design plans. It's an entirely new Will Graham in that room.
He's calm, cool, collected, poised, and ridiculously handsome. 
Will Graham is ready to play as a mental equal to Hannibal rather than being one step behind. With that in mind:
Is Will finally one-step ahead of Hannibal?