Hart of Dixie Review: Girlfriends At Last
Kate Brooks at . Updated at .
After three long seasons of Hart of Dixie, the two characters I've always wanted to be friends finally came together as such.
Zoe and Lemon put aside their difference and used each other for advise.
On Hart of Dixie Season 3 Episode 18, Wade was on the brink of inevitably losing Vivian, while Lavon continued to be the biggest loser in all of Bluebell.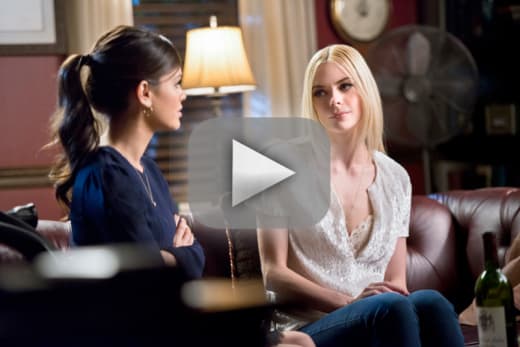 There were three major plot points and character arcs that I will discuss individually.
Lavon, Annabeth, and Davis.
After Annabeth and her stalker new boyfriend Davis are seen buying condoms, Lavon decided to get drunk and blow Bluebell's chances at hosting the state fair.
Does anyone else think Lavon is incredibly unfit to be a Mayor? I mean, he's been acting like a complete douche bag since HE broke up with Annabeth. I cannot stand him when it comes to her.
How long is it going to be before Lavon decides to grow a pair and act like man? All he does it sit around and mope about how he split with AB. I just don't get why the writers are doing this to his character. It's unbearable.
I can promise you one thing, I will NOT be happy if somehow this turns around and he reconciles with AB. She deserves better than a jealous ex-boyfriend who gets wasted the first time she dates someone new. Especially since he's the one who broke up with her!
Davis is a good man, a little bit creepy, but he is treating her right. That said, if it ends up he was using AB to get to Lavon, I'll be even more pissed. I honestly worry about where this arc is headed.
Wade, Vivian, and Charles.
When it comes to this civilized trio, I get a little bit of an awkward vibe. Maybe it's just me, but in what world does a man tell his ex-wife to "have a good time" with her new boyfriend? Weird. I find all of this really uncomfortable.
Then, the episode progressed and we started to see Vivian and Wade drift apart. It seems like they're really rushing into ending this relationship soon. I mean, at the beginning they were all over each other and by the end (which was two days in Dixie time), it was really awkward.
I think that Vivian slept with Charles. Obviously big daddy Charlie is trying to get back in his Vivian's good graces for a possible reconciliation. Let's be honest, how does Vivian do better than Wade? I mean, come on! I bet you that Charles doesn't have those abs!
Anyway, the conclusion of this plot-line is that Wade and Vivian are finally reaching the point of their break up. My only complaint is the writers tried to pull the cheater card by throwing a pretty girl in front of him, shocker.
Instead of Wade cheating on his girlfriend (call back to Hart of Dixie Season 2), his girlfriend possibly cheated on him.
Zoe and Lemon.
Now to the best part of Hart of Dixie Season 3, Zoe Hart and Lemon Breeland finally became girlfriends after AB chose to get laid over their drama. I don't blame you, AB.
The honesty between these two was hilarious; neither of them had any filter when passing advice and I loved it!
In order to talk to one another, they had to cover their eyes so they didn't realize they were revealing personal details about each other. It was hysterical. I haven't laughed that hard during Hart of Dixie in a very long time.
I feel like this moment was a long time coming and it was very rewarding to see Lemon tell Zoe to stay so they could both have breakfast with Annabeth.
I couldn't be happier with how this turned out. I look forward to seeing more of this.
Overall, this episode was a good set up for the remaining installments and I can't wait to see how the show progresses from here. My one wish would be that they keep bringing Magnolia back a little bit more to cause trouble for Brick, it's never enough.
Until then, I bet we will see a single Wade soon and hopefully more Lemon and Zoe girlfriend hang outs.
Are you happy that Zoe and Lemon are FINALLY friends?