Mad Men Review: Rich in Goods, Ragged in Spirit
Carissa Pavlica at . Updated at .
As much as it pains me to know Mad Men is coming to an end, spending the final season in 1969 suits the series perfectly. 
Richard Nixon was inaugurated as president (Don was watching it on TV), the Stonewall riots in New York City in June of that year marked the beginning of gay rights, men walked on the moon in July, Woodstock was in August and Manson was infamously killing people in the very canyons Megan bought a home that same summer in California.
Shown most markedly in Don, Peggy and Roger on Mad Men Season 7 Episode 1, many of our characters are in the midst of terrible crises and loneliness. Others, such as Megan and Joan, seem to be finding their way in their new landscape and Pete and Ted seem to be thriving, even if not for the same reasons.
For this opener, I'm going to run it down by character because so many of their stories didn't connect. Let's get started.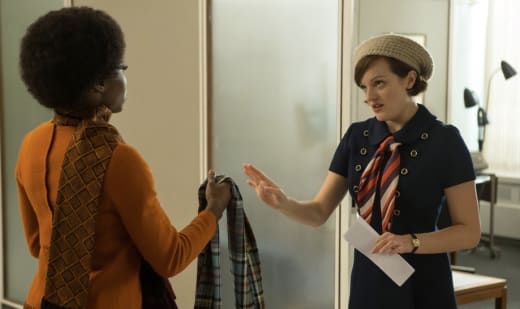 Joan Harris is still lost at Sterling Cooper & Partners. She's one of the partners, but proving herself is like a full-time job. Ken Cosgrove is apparently handling all of the accounts without any underlings -- he fires two before we get our first glance of him but we hear him loud and clear. The pressure is getting to him so he asks Joan to handle the Butler Shoes account.
Ken thinks it's just a meeting with Wayne Barnes, the new head of marketing. No big deal. But Wayne isn't very pleased that Ken doesn't show up and thinks he's getting second best in Joan. He just needs to get to know her. Joan never fails to impress; she's visiting a college professor for advice and by the time she's done with Wayne he's asking her what to do to keep things on track. 
Despite her take charge manner on the phone, her self-doubt kicks in when she shares her thoughts with Ken. It's unfathomable that someone at that firm hasn't made her feel as important as she is by now. 
Peggy Olson seems to on top of her game when she's meeting with Freddy Rumsen to get pitch ideas for Accutron watches. She's amazed at how good his work is, but she still wants command over it and tweaks it before taking it into a meeting with Don's replacement, Lou. Lou is about as enjoyable as a box of Kleenex. He probably couldn't come up with a good ad for them, either. 
Lou attempts to be funny and seven people in a room laugh miserably to keep their jobs. Peggy keeps pushing what she feels is the best pitch even though he doesn't want it. He degrades her and tells her flat out to stop trying, but she's like a storm trooper. Stan tells her to give it up, but she can't. She wants perfection.
It doesn't help that Ted is back in the office making her incredibly uncomfortable. Everybody thinks Ted should have a tan since he lives in California, but it's all about the work for Ted. He rolls with it. He left New York to save his family and seeing Peggy doesn't have the same effect as it does on her. 
Meanwhile Peggy tries to keep up appearances at work at home as she struggles with an annoying tenant with a plugged toilet, but in the end she just gives up, sinking to the floor in utter loneliness and misery. If only she knew she wasn't alone.
We first see Roger Sterling buck naked save for a phone on his lap, talking to his daughter amid the leftovers of orgy. Booze and cigarettes are all around and, oh yeah, other naked people. His new squeeze is open to anything and he just wants to drink. Did this all start from his one strange party with Jane? How far he has fallen. 
The last thing Roger expects is for breakfast with Margaret to be a meal of forgiveness. She's letting everything go. He needs more vodka. It's not religion, but given the year I'm curious if she's not in a cult. To forgive him so openly just seems off, given the times. Roger arrives home to his girlfriend already naked in bed -- with another dude. Roger just wants to sleep. Maybe Margaret's forgiveness will be his catalyst.
Megan Draper has her budding television career and a house in the canyons. For two years there has been speculation that Mean would die a death similar to Sharon Tate's and now she's living in the canyons of LA just months before Charles Manson starts killing -- alone. She has no idea Don's not working at Sterling Cooper any longer; or maybe she does. There has to be a reason she's so chilly in her reception of him.
Their relationship has hit the skids. As Don Draper enters the scene "I'm a Man" by The Spencer Davis Group is rocking in the background and it seems that he is the man. Right up to the slo-mo kiss with his hot wife in her beehive hair and short mini-dress. Then it all falls apart with something as simple as her driving them back to her place. 
Don has a meeting "at the office" which is with Pete, tanned and embracing California. At least it seems that way. We only got the far away glance and he could have been putting on a show for Don, but he appears to be one of the least scathed out of the group. Picking an orange off the tree works for Pete Campbell.
Don's gift to Megan doesn't go over well as she doesn't want a large TV to show off to her starving friends. They don't even have sex (or, "celebrate" as Don calls it) until it's practically time for him to return. She's nervous and he's withdrawn. Absence has not made the heart grow fonder. If anything, they're barely holding it together, something we learn on his plane ride home.
Don Draper settles in for another cross country flight but this time he's next to a beautiful passenger (Neve Campbell). She's a widow and the two hit it off, but not so much that he's willing to cheat on Megan. There has been some change in the man. It's hard to know if it's depression that keeps him from doing it or fidelity.
What's been keeping him going (and flying back and forth) while he's waiting for his suspension to be over is his partnership with Freddy Rumsen. The Accutron pitch was all Don. No wonder Peggy loved it so much. She knows his work better than anyone. Enough so that it's surprising she hasn't caught on by now. She must be struggling so hard on her own that she's missing the bigger picture.
The hour closes with Peggy's collapse to the floor and Don walking out onto his balcony -- in his underwear, in January -- to the psychedelic remake of "Set Me Free" by Vanilla Fudge. From the cocky demeanor of the man walking off the plane to the strung out and shivering shadow of himself on his balcony it feels like a long drop. It's one he's been taking for a very long time, as that plunge between the two buildings in the Mad Men posts have told us. He should be landing soon.
It was a fantastic entry into the season and one that already makes me long for another season we will never have. If the tie-in with the plot and Nixon's inaugural speech is any indication, we're in for an exceptional and historical ride. These characters do not lose their shine, they only grow more interesting. They will be at their best when all together again. That will happen, right? If you want to revisit the past you can watch Mad Men online for a refresher.
Who intrigued you the most in the opener?
Carissa Pavlica is the managing editor and a staff writer for TV Fanatic. She's a member of the Critic's Choice Association, enjoys mentoring writers, cats, and passionately discussing the nuances of television and film. Follow her on Twitter and email her here at TV Fanatic.