Nothing too drastic happened on Parenthood Season 5 Episode 22 - and that was the perfect decision for this finale. 
As of this writing, there is no determination whether the series will be picked up for another season, but it seems unlikely there won't at least be a shortened run to close out loose ends.
Even so, if this episode did have to be an end, it would be just fine because everything was just beginning.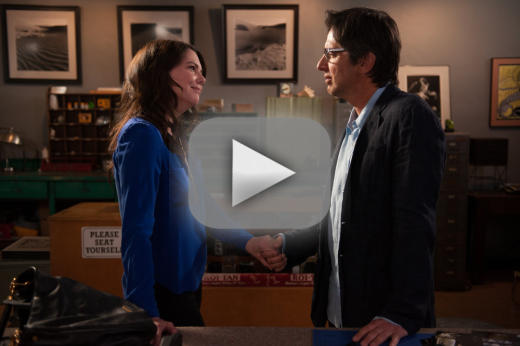 Haddie came home from college not only because Casa Braverman was on the market but because school's out for summer. The clue was when Natalie and Drew also left university. See how smart I am, putting that evidence together like a pro! 
It was odd timing for Natalie to tell Drew she loved him, but not really shocking. She was looking for him to step up and when he did she opened her heart. 
Haddie's heart has been opened as well, by her "super awesome best friend" Lauren. It was difficult to see much of a love connection between them in such a short time, but expected that Kristina and Adam didn't hesitate to accept her choice. When Haddie tried to explain Lauren to Adam in the kitchen, but failed, she sounded so much like Kristina. That was very well done on the part of Sarah Ramos, emulating Monica Potter like that. 
Amber finally met the mother Ryan was so anxious to keep from her and she wasn't much of a prize. Even so, since Ryan has been discharged from the Army he'll be going home with mom to recuperate and figure out his next steps. Burdening Amber didn't feel right to him and that was a very Ryan move. He's a bit of a martyr.
Correct me if I'm wrong, but we still don't know much about the accident or what Ryan has been up to. Was he discharged before or after the accident? There seems to be more to his story and since he and Amber are obviously still in love, I expect we'll find out. Especially since she's pregnant. I'm going with it -- she was drinking water at the dinner and she never passes up a drink.
The experience Victor had helping Zeek rebuild the Pontiac was life-changing. He wrote an essay about it and won the school's essay contest. That moment brought Joel and Julia together as parents as they watched their son grow into a man, just before he got ready to stuff his face full of ice cream. 
There is still hope for Joel and Julia, mostly because of the bond they once shared and their children. They still haven't taken any time to talk about who or where they are now. Lingering glances won't fix the hostility that has split them apart, and he was noticeably absent from the family dinner. One good night didn't send them back into each others orbit.
Sarah finally talked about the big tomato in the room. She admitted to Hank that his Asperger's scares her and if they revisit their relationship, it's not a little thing, it's a big thing. It was comforting that she told him why, as well. That the Asperger's takes away something she really needs -- communication. That he doesn't look at her when they talk makes her uncomfortable. 
Hank: Really?
Sarah: Is there still a tomato in the room?
Hank: No tomato and I'm lookin' right at ya.
Here's hoping she doesn't squash the tomato now that she has picked it up in her hot little hands again.
Was there anything more fun than watching Crosby and Adam revisit their childhood as they moved their parents from Casa Braverman? The way they retreated back to being the boys who grew up in the big house, wrestling and cajoling each other into bobsledding down the staircase was wonderful. My sister and I used to slide down our stairs as kids, but we just skipped the mattresses! Ruined the carpet.
Neither Crosby nor Adam won the best mover contest, though. That was set aside for Drew. It was always for Drew. He accepted his prize with tears in his eyes and drove to Portland to see Natalie. Will the next car go to Victor? Maybe that '68 Mustang he talked about in his essay.
Life isn't perfect, but as long as you're always present in the one you have, things will eventually turn out OK. The Bravermans are always available for each other and they emulate a good extended family for us, reminding us to just be there. That's all it takes.
That's all there is for this season! Hit the comments and talk about what you loved or didn't and be sure to watch Parenthood online for all of your most treasured Braverman family moments. 
Grade the Parenthood Season 5 finale!
Carissa Pavlica is the managing editor and a staff writer for TV Fanatic. Follow her on Twitter.