Person of Interest Review: School Ties

Sean McKenna at . Updated at .
That was either the worst high school reunion or one of the best.
Guess we all know who would be voted most likely to get in a gunfight with a domestic terrorist organization while following up on a person of interest.

Every time I go into a Person of Interest episode, I'm usually surprised and entertained.
Sure, not every hour would be worthy of homecoming king, but the vast majority of Person of Interest Season 3 episodes (especially the latter half) have been pulling out all the stops, intertwining case of the week with larger mythology, giving us great character moments, classic action scenes and enough information and teases that coming back feels like a necessity.
And a welcome one at that.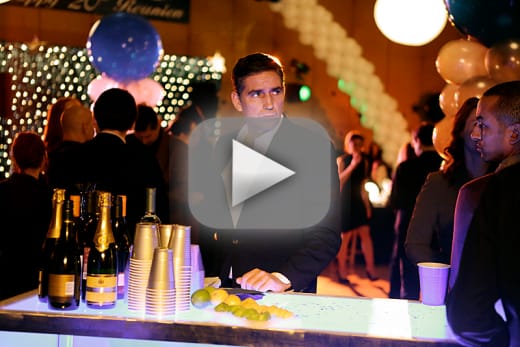 Starting Person of Interest Season 3 Episode 19 off with a failed attempt at saving a number was definitely a shock. I'm pretty sure it's happened before, but the team has been so good at its job that it almost felt obvious that victory would be attained.
Kudos for switching it up and providing a higher threat level when connected to a group like Vigilance.
Interestingly enough, it almost seemed like this would just be a case of the week that provided another fish out of water scenario for Reese and Shaw. Finch and Fusco would play the smaller role in getting at the information about the government's Northern Lights project, its connection to the Machine and being one step ahead of Vigilance, but ultimately keeping it light and fun.
And it was. Fusco accompanying Finch (hope he picked ACDC) and getting his beauty sleep were highlights on that road trip, but it was the super spies playing Frank and Betty at the reunion that really played up the humorous laughs.
The women continuing to walk up to Reese to slap him was funny, as was Finch trying to explain that Shaw pretty much looked just like Betty.
Even the fact that everyone seemed to think those two were exactly who they were pretending to be added to the moments. Plus, it gave ample time for Reese and Shaw to dole out their dry humor, unpack their essentials (you know, guns, tactical equipment and the occasional toothbrush) and get their bowling shoes on.
Additionally, turning the person of interest into the perpetrator was a nice spin. And making the chemistry sparks fly between him and Shaw (who said anything about a relationship) was enjoyable.
Also making real chemistry work to Reese and Shaw's advantage would have made both Breaking Bad's Walter White and Jesse Pinkman proud. Science, bitch!
But it was taking it one step further (the show loves to try and top itself) by turning Vigilance loose on Reese and Shaw. Bet they wish they only had to deal with one problem at a time.
It made for a great hand to hand scene and the added commentary from the stoner about being ninja dudes. And don't ever tell Reese he's not fast.
Unlucky for the team, Vigilance was in two places at once, causing problems for Finch and Fusco as well, and Collier stole the document to expose the government snooping on everyone. At least Root got to pull out her signature two gun moves.
But with Control and her team deactivated, that certainly changes things for the Machine. That final Machine footage of its "primary operations compromised" and restructuring to give Root that massively full plate of relevant numbers isn't going to be any easier with Decima and its own Machine on the horizon.
This hour really had a lot of fun with its characters and story, while maintaining progression on the bigger picture. It's hard to believe the series has come so far since Person of Interest Season 1 Episode 1, but there's definitely a feeling that the showrunners and writers have a solid plan in place.
It only makes it that much easier to show that POI spirit and be excited for whatever is coming up next.
Do you want to see Shaw and Matthew (the person of interest) get together again?
Sean McKenna was a TV Fanatic Staff Writer. He retired in May of 2017. Follow him on Twitter.