Is laying on the floor the best place for the increasingly mad King?
From the look of this exclusive photo (given to TV Fanatic by The CW) , courtesy of Reign Season 1 Episode 17, it just might be!
In the accompanying image, the fallen King - who is losing his mind - is consoled by Kenna when Bash intervenes... but will this end up a good or bad situation for our young newlyweds?
I mean, the King did force them to marry when they are not in love!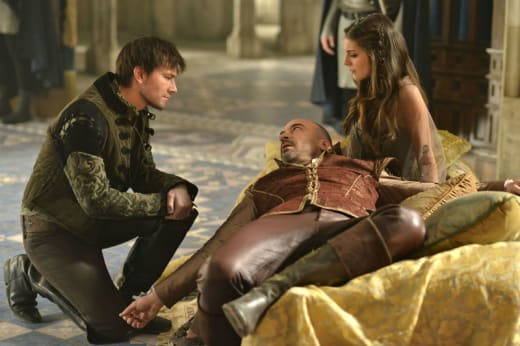 Also on tap this evening, Mary learns about a secret clause in her marriage contract that was put together by her mother and Queen Catherine.
Elsewhere, Mary and Francis embark on a dangerous plan to turn Scotland against her mom. Just how much will Mary like the taste of power as Queen of Scots? We'll find out in a few hours.
Reign Season 1 airs Thursdays at 9/8 on The CW. 
Jim Halterman is the West Coast Editor of TV Fanatic and the owner of JimHalterman.com. Follow him on Twitter.