Reign Review: I Don't Need Your Civil War

Gabrielle Moss at . Updated at .
There was a lot to keep track of on Reign Season 1 Episode 17: international intrigue, a huge massacre (the show's first!) and Queen Catherine getting her jollies (also a first!).
But I want you to put all that on the back burner for a second so we can discuss what an absolute JOY Kenna and Bash's forced marriage is. That opening scene was like classic Moonlighting, and I wanted it to last for 85 minutes straight. Utter. Perfection.
I had never thought of Bash as a particularly charismatic character, but perhaps that's because prior to this, all he was ever given to do was limp around pining for Mary, which is not a terrible charismatic thing to do.
But I love his friction with Kenna, which provided all of the night's best Reign quotes in the show's first 5 minutes. Their marriage makes literally zero sense, but I am loving where it is going, despite (or possible because of) that!
Okay, if we must talk about things other than Benna (Kash? I'm cool with either!): this hour kept the always-potentially-boring subject of land rites bouncy and energetic.
It most cleverly avoided the monotony of previous land rites-heavy episodes by bringing in a heavy dose of murder, both possible (Mary) and actual (all those poor, horny Scotsmen).
Of course, since I'm here to ask the hard questions, I have to wonder: where is Olivia in all this chaos and bloodshed? What about that whole thing with the 'darkness'? Did the 'darkness' agree to just chill while they figured this marriage contract thing out?
Also, is King Henry the 'darkness'? Now that his madness has become a bargaining chip between Mary and Catherine, hopefully we're in for a more in-depth explanation of its roots. Also, King Henry is totally the 'darkness.'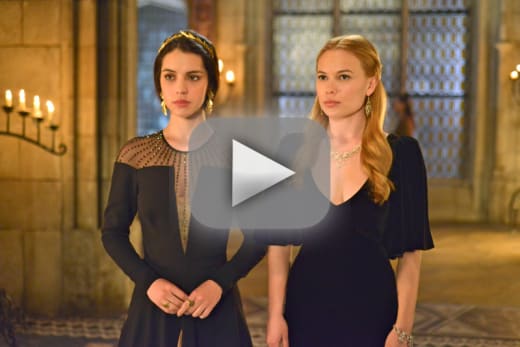 Perhaps the greatest mystery of all on Reign is how these kids all turned out so well-adjusted. Their parents all really are (pardon the pun) royal assholes.
How did Mary, Francis, and Bash end up so level-headed? Maybe Nostradamus will tell us some time before the Reign Season 1 finale.
Official Reign FashionWatch: 8/10, with bonus points given for how Mary was wearing a subtly plaid dress for her big Braveheart-style speech. And if I'm remembering Braveheart correctly, things actually didn't turn out much better for those guys...
But back to the big questions; namely:
Will Bash and Kenna stay married?