Star-Crossed Review: Winter Blast
Leigh Raines at . Updated at .
High school dances are always high drama - and it was no exception on Star-Crossed Season 1 Episode 11.
Marshall High hosted the annual Winter Blast for students, but it turns out there was more than one important blast happening.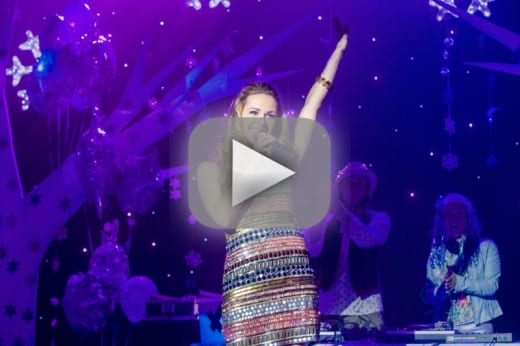 Back at the Sector, Roman and Drake hatched a plan to try and nail Castor for all of his misdoings while taking out Vega and the bomb. Well... the plan worked to a degree, but there is one variable that nobody took into consideration: Teri.
Teri has more knowledge from both sides than anyone would assume. Since she planted the bug in Castor's apartment, she saw and heard Roman and Drake's plan to plant the grenades on the bomb to frame Castor.
If Vega hadn't have jumped down Teri's throat and blame her so quickly, maybe Teri would have told her the real culprits. However, she chose to save Castor instead. Castor may have lost his position of authority by the elders, but the real problem he faced was messing with the Trags.
I certainly do not think it was a mistake that Castor was caught on camera talking about his admiration for Teri and how Vega doesn't appreciate her. Castor is evil, but he is also very smart.
He knows what he's doing and I'd bet money that he knew the pod was bugged. He knew Teri would be watching and that she was seeking her mother's approval and he could get to her.
The question now is, what will Teri and Castor do next? Will Teri tell him about Roman and Drake or will she go up against her mother?
Back outside of the sector, it was the regular teenage life of break ups and prepping for a school dance. How much do you love Julia and Eric!?
Emery seems to be dealing with her breakup decently enough but it helps that she had a lot to distract her. For one, Taylor is knocked up! 
You know what pisses me off the most? I mean besides having a half-alien baby that might kill me or worse cankles, I really like Drake.

Taylor
I'm glad Taylor decided to tell Drake right away. There was no need to drag out the secret. Also, I love Draylor. And according to Star-Crossed Season 1 Episode 10's poll, you all love Draylor too. They just have such undeniably awesome chemistry.
Well, that narrow-minded Red Hawk lunatic Vartan tried to kidnap Emery after he saw that the girls were looking up stuff about Atrian pregnancies. Gals you're in high school, do you not know to erase your search history when looking up private topics yet? C'mon.
Luckily, Grayson was true to his word that his new version of the Red Hawks really was only targeting the Trags. He saved Emery, got Vartan arrested, and even recruited Emery into his group.
So, what do you think of these new Red Hawks? Do you trust them?