Something happens tonight on Idol that I've never seen happen in all the years... #IdolTwist.
It's safe to say Ryan Seacrest got our attention with this Tweet prior to tonight's results show.
Following an American Idol Top 5 performance show in which the songs were chosen for finalists by the viewers at home, what could the host possibly have been referring to?!?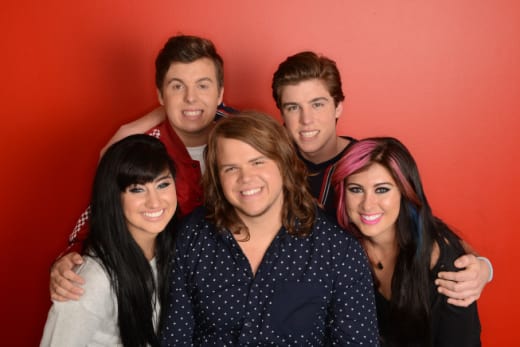 After Keith Urban took to the stage, we found out:
In a desperate ploy for ratings surprise move, Ryan told the contestants that they could control whether or not anyone went home this week.
If they unanimously agree, the elimination can be skipped this week and carried over to next Thursday, during which TWO singers will get the boot.
If not, the elimination will take place as usual.
So, in Survivor-like move, the votes are then tallied: YES to skip the elimination; YES again; YES again; and then two NOs!
Someone WILL be going home tonight and, with no bottom two, we get right to it. Sorry, Sam Woolf. You are going home.
What did you think of this twist? And what do you think of Sam Woolf being voted out?
Here is a look at your Final 4:
Matt Richenthal is the Editor in Chief of TV Fanatic. Follow him on Twitter and on Google+.