American Idol Review: The Final Countdown
Miranda Wicker at . Updated at .
After five months of auditions - some ear-splitting, other download-worthy - it's down to this. Tonight, Jena Irene and Caleb Johnson will face off for the title of American Idol. 
Last week's surprising ouster of Alex Preston has left the resident rockers in the ring. Can Jena Irene's EDM-influence out-perform Caleb Johnson's classic rock vibe?
Let's find out now...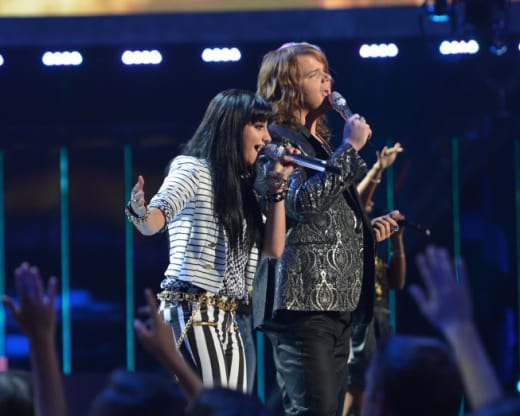 Idol has moved to the Nokia Theater for part one of the Season 13 finale and it's clear based on Ryan Seacrest's audio that they've pulled out all the stops. 
Tonight will feature three rounds: Simon Fuller's choice, contestant's choice, and their first single. Okay, so NOW let's do this...
Round One:
Jena Irene is given "Dog Days of Summer" from Simon Fuller. She won the coin toss and didn't defer 'til the second half. This sound is right in her wheelhouse. It's really great until she hits the chorus and then the performance loses momentum and falls flat. It's not terrible, but it's not her best performance either.
Keith gives Simon credit for the song choice and then compliments Jena for owning the stage. Jennifer says that the energy is electric in the room which might be giving Jena a case of the jitters. Harry loved it and says she's already on her way to being a professional. 3.5/5
Simon Fuller gave Caleb Johnson "Dream On." This is definitely a song for Caleb, but it doesn't help him in terms of feeling current. (I'm also a HUGE Aerosmith fan, so no one will ever do this song justice in my ears.) It's definitely an energetic performance. He ties a scarf on the mic stand a la Steven Tyler AND he hits the big notes at the end, followed by some additional "yeah" that the song didn't need. It was a typical Caleb performance. 
Jennifer says "that's what you gotta do! THIS IS THE FINALE! THIS IS IT!" which isn't a critique as much as an observation. Then she says he did it. Harry calls him a "GT that's got so much power" and reminds him to put some of the energy from the end of the song into the beginning. Keith, however, loved the arc. 3/5
Round Two:
For Round Two, Jena Irene has chosen to reprise "Can't Help Falling In Love With You." Her first time through this song goes down as one of the best performances in Idol history, but is it too soon to sing this one again? No. No it isn't. If she released this one as a single it would go triple platinum. Or something. She can rock, sure, but there's something fantastic when she slows down and bares her soul. 
Harry says that what separates Jena from others is that she can set aside other peoples' influences to make songs totally her own. Keith gives her credit for being a trailblazer for inspiring "someone else" (The Voice season 6's Christina Grimmie) to do this song after she did it two weeks ago. Jennifer got goosies and loves seeing Jena's soul. 5/5
Caleb Johnson is singing "Maybe I'm Amazed" by Sir Paul McCartney for the second time this season. This performance is a struggle for me because, again, it's a classic song, but unlike Jena, he doesn't really make this song his own. He just sings as big and as loud as he can and it feels like a bad cover. I like this better than "Dream On," for sure, but it lacks the soft power of Jena's performance. 
Keith loves the emotion behind the song and cautions Caleb against getting lost in the theatrics of the song and killing the emotion. (PREACH, Keith!!) Jennifer felt like he was holding back to try and give more heart but he just didn't get there. Harry agrees with Keith and Jennifer and thinks Caleb lost the second round. 2.5/5
Round Three:
"We Are One" is the single Jena Irene will release if she wins tomorrow night. It has a pop-rock feel in the vein of Demi Lovato. It might be a love song but I can't really tell, even with closed captioning on. It's not a fantastic song but Jena's singing the pants off of it. Or she's trying to.
Jennifer thought the song suited her. Harry thought it was just as strong on the stage as in the studio. Keith thinks it's perfect for her. 4/5
Caleb Johnson's winner's single is called "As Long As You Love Me." It has a classic rock, guitar-heavy musical track and it's equally terrible. This will never get radio play and if it does he'll be a one-hit wonder. Once again, he shout-speaks into a microphone and walks around the stage carrying the mic stand. 
Harry makes a boxing analogy and says "good luck, America." Keith says he's dying to see what happens tomorrow and doesn't give an actual critique either. Jennifer says he gave it everything and went for it and should sleep tonight even though she knows he won't. It sort of sounded like she told him he lost. And I think he did. 2.5/5
Jena Irene--3.5, 5, 4 = 12.5/15
Caleb Johnson--3, 2.5, 2.5 = 8/15
This was never a fair fight. Caleb has always been too old-school for modern music and hasn't made a place for himself in the current landscape. Jena has not only made herself sound current, but she's shown her musicality by making songs her own.
Jena Irene deserves to win tomorrow night.
What did you think of tonight's American Idol finale? Who will win tomorrow night?
Miranda Wicker is a Staff Writer for TV Fanatic. Follow her on Twitter.