Things got heated in the Mr. Palos Hills High School pageant on Awkward Season 4 Episode 6. 
Sadly for Jenna and everyone else, the heat came from the drama.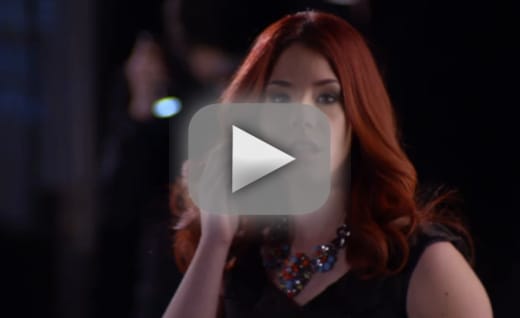 Before getting to Matty's meltdown, there was a lot of enjoyment to be had with the adults this installment. Lacey, Kevin, and Ally all having some fun and reliving their glory days is a time-honored tradition this season.
But watching Kevin teach the boys how to properly do some hip thrusting (along with other motions for their coordinated entrance) brought Kevin in on what is usually Lacey's territory. Who knew he had such a great set of abs to boot?!?
Lacey and Ally having just a little too much fun in the audience during the opening numbers fit both of them perfectly, as they relieved their glory days, and, naturally, Ally took it just a little too far at Little Bitch's pageant when she yelled at Matty to show them his balls. 
Matty's meltdown was indicative of his time bomb status.
He's been waiting to explode - and while some of the pressure he's feeling has been escaping in bits and pieces (quitting his job and wrecking his car) he has not been at this level.
Publicly shaming Jenna in front of her parents was a low blow, all so he could get back at his mom and reveal his own paternity. Yes, Matty apologized immediately afterwards, but it was a rough moment to watch. It's rather admirable that Jenna is able to brush it off so quickly. 
Luke and Jenna continue to have great chemistry together and I love how well he treats Jenna throughout all of the drama. He's even completely okay with all of Kevin's craziness when it comes to Jenna.
I'm worried, though, that Jenna and Matty's "epic" love story is going to end up throwing Luke to the side. At this point, I'm over Jenna and Matty being a couple. I would much rather Jenna reevaluate her options and focus on her future. Being by Matty is just going to land her full of collateral damage. 
Elsewhere, Jake finally caught Tamara's catfishing of him - and Jake is completely right: Tamara still has no idea why they broke up in the first place.
Right now, Tamara is completely focused in on her status and social hierarchy. She wants to be the power couple of high school, but doesn't really understand why she ends up getting broken up with in the first place. It's time for Tamara to leave the crazy train and find some balance. 
Who should Jenna be with, Matty or Luke?