Breathe, readers. Crisis Season 1 Episode 8 was a breath-holding hour of television.
Until the very end, I wasn't sure what would end up happening to Jonas Clarenbach. He's turned out to be one of the most intriguing parts of the tale.
Even though he's responsible for creating the super soldier serum and had an affair with Meg, he seems like a pretty decent guy.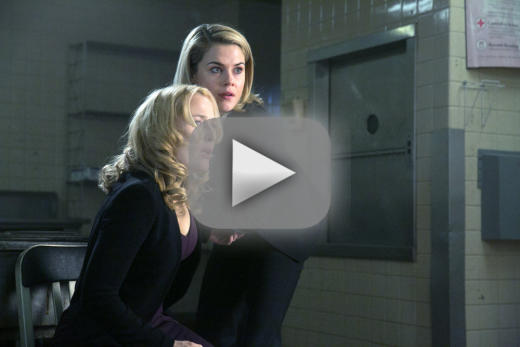 With both Widener and Gibson after him, Clarenbach didn't have much of choice other than to trust Finley and Dunn with his safety. I loved how he just casually dropped the bomb that Gibson was the kidnapper. He basically said, "Duh. How do you not know this by now?!?!" 
Both Dunn and Finley continued to prove their intelligence and extraordinary abilities as agents even if they didn't identify Gibson as the kidnapper. They turned a no-win situation into the possibility of an all-win one when they split up. I really thought they might pull it off. Of course, that wouldn't have left much for the rest of the season.
Dunn's ploy didn't work as she planned, but she was successful in saving Meg's life. The heart-to-heart between Meg and Susie was difficult to sit through. Their relationship has been troubled for so long that the emotional wall broke down when their lives were on the line. It will be intriguing to see if the made-of-steel CEO changes at all after being held prisoner.
Finley's trip to the FBI offices was fruitful when Clarenbach recognized the location where Gibson's holding the hostages. Should Finley have attempted to force the location out of him? Maybe, but wouldn't that have made him just as bad as Widener and Gibson.
The smartest play of the hour went to Finley for giving Widener their location. Sure, Jakob Vries' men got Clarenbach, but that would have happened even if Widener's men didn't show up. The question is whether or not Vries listened to Finley and got the location out of Clarenbach before turning him over. I doubt it, but it's possible. 
Regardless, Clarenbach pointed them in the right direction and that should be enough for the FBI to track down the house. Will Gibson and the hostages still be there? 
RIP Mr. Nash. You were a bit worthless, but poor Amber will mourn you anyway. They came so close to finding a way out, but end up thwarted. At least she wasn't hurt. Gibson reaffirmed that Amber is important to his plans. Why does he need her? Does it have to do with Meg? Susie? Or, does Amber have something to offer him?
We'll just have to wait and see what that's all about. It's just one of the mysteries still outstanding.
Dunn and Finley may have lost Clarenbach to Gibson, they know more about the kidnapping now than ever and these clues should put them on a path to saving the kids. Since Widener lost Clarenbach, he should also now be focused on finding Gibson and the kids. They have a common goal, but with two FBI agents killed by Widener, I doubt there will be any collaboration.
Did Beth Ann hear anything to clue her in on her father's involvement?
Carla Day is a staff writer for TV Fanatic. Follow her on Twitter and on Google+.