Grey's Anatomy Round Table: "We Are Never Getting Back Together"

Christina Tran at .
Welcome back to the TV Fanatic Grey's Anatomy Round Table!
Our review broke down Grey's Anatomy Season 10 Episode 22, "We Are Never Getting Back Together" in detail. Now Christina Tran and Steve Marsi, along with Jarrod Mitchell, are back for a Q&A.
Read their answers to the questions and weigh in with yours!
----------------------------------------
What was your favorite quote or scene from Grey's Anatomy Season 10 Episode 22?
Christina: There were so many epic Cristina and Burke moments. However, if I had to pick my favorite line, it would be Cristina saying, "The best thing that ever happened to me was you leaving."
Jarrod: Probably the final scene when Cristina yelled at Burke and he asked her if she was finished and she sternly said "no" and just looked at him. A powerful scene and tremendous acting from Sandra Oh!
Steve: It's a cop out on my part, but I'll give it to Sandra Oh as a Lifetime Achievement Award of sorts. She's been so good for so long and this was the actress at her best from start to finish.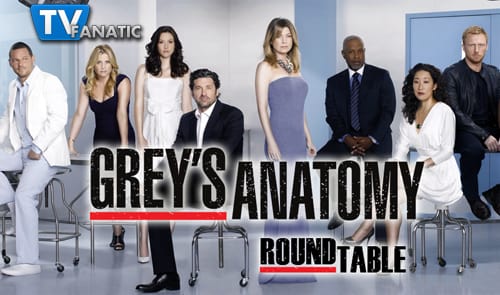 On a scale of 1-5, how awesome was Dr. Preston Burke's return?
Christina: 4! As I mentioned in my review, both Burke and Cristina still possess so much spark and chemistry together even after all this time. There were too many unforgettable moments to name, but his return also made me oddly a little sad. However, I am thrilled about his offer and how it's Cristina's perfect going away present.
Jarrod: 5! Though I do believe there could have been a lot more shared details (good and bad) from both Burke and Cristina in their time spent apart, I do understand that it's about Cristina's journey coming to an end and that anything romantic between them wouldn't make sense at this point for Cristina.
Steve: 4.5. I admit, hearing that Burke is married and a father was a bit of a stomach punch emotionally, but it also makes sense given the way he left and the number of years that have passed since Grey's Anatomy Season 3. Returning at all to help bookend Cristina's storyline and 10 seasons of Grey's is more than we could've expected and was very well done, I thought. I always thought Isaiah Washington did a great job on the show, and he was no different this week.
Will Cristina take over the Chocolate Factory?
Christina: I know so much can change in the course of two more installments, but I want to say YES! This is everything she's ever wanted and Burke is giving it to her. It's heartbreaking and bittersweet all at once.
Jarrod: Of course she will! Cristina has deserved the opportunity to reign over her own kingdom and now that she's finishing up her fellowship, I am sure she'll kick some ass.
Steve: Given that we know Sandra Oh is leaving, this seems like a fitting conclusion that doesn't involve Cristina dying or leaving on terms that would have the remaining surgeons upset. All we can ask for, right? Take it, C.
Which resident is getting fired?
Christina: I'm rooting for Leah, lol.
Jarrod: I think it's too obvious for it to be Leah or Shane. I don't doubt it'll be either, but seems like an unnecessary planted seed if you ask me. I think all residents had done a good job in their internship, as well as their second year as residents.
Steve: I, too, think it's almost too obvious for Leah or Shane to be shown the door ... but I really can't imagine it's not one of those two.
If Amelia stays, what would you be looking forward to most with her addition?
Christina: I'd like to see more interaction between her and Meredith. What Mer had with Cristina is irreplaceable, but it'll be fun to see some more family issues and moments.
Jarrod: Definitely some interaction with Meredith. I could definitely see her befriend Callie. Much like Christina said, some family interaction would be fun. Perhaps a Shepherd Family reunion could be in the works?
Steve: Amelia serving as a replacement for Cristina would be an interesting wrinkle. Not taking her place in terms of filling the void of what Meredith and Cristina have, but in terms of screen time and giving the Grey in Grey's Anatomy a new female BFF (who happens to be her sister-in-law)? Could be neat.