It seems like just a few seasons ago Adalind came around to wreck some havoc on Juliette. 
Imagine my complete lack of surprise then when she came breaking into their home to steal a few things of Juliette's things on Grimm Season 3 Episode 21.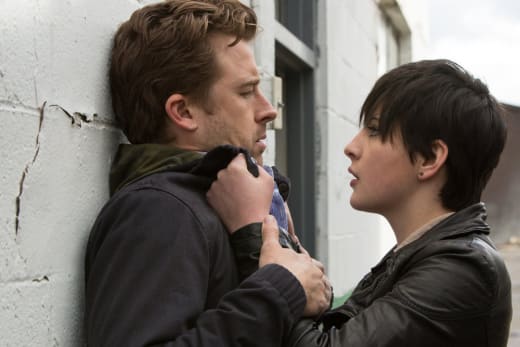 Just about all of us saw this coming the minute Adalind did her breaking and entering. If there's some screwing over to be done, Adalind is right there, ready and waiting to do it to Juliette.
No matter the predictability, however, Adalind continued to be conniving and smart. She knows Renard is lying through his teeth about Diana, and the best way to get information is to go to the man who is really calling the shots: Nick. 
By doppelganging as Juliette, Adalind can find the information she craves and get back at everyone. 
The stronger of tonight's stories iswasRolick and Josh because they bring back plots on Grimm that I've been wanting to go back to for a while now: particularly the keys. Nick is making his name known in the Grimm universe and all the Grimms are coming out to play with their own keys that've been passed along throughout the generations.
Yes, Monroe is right about the keys, 
Monroe: Well, we're one key closer to...God knows what. 
But the forward momentum is wonderful. The lost treasure of Wesen-lantis is still very fary away, but getting back to the core mythology is exciting. 
Trubel is still in the middle of things; getting to know her a little better is fun. A good majority like her enough to want her to stick around for at least a little while - and I have to agree, she brings a fun spark to the show.
One of the fantastic readers even mentions the idea of a spin-off; while there's not Agent Carter-like reveal for Grimm this season, I can definitely see a future episode in Grimm Season 4 as a backdoor pilot to a Trubel series.
It's certainly a callback to the old Grimm days when they wandered around and actively saught after Wesen. 
Are Rosalee and Monroe going to have a nice wedding, or are they doing to elope?