Wow. What a strong installment.
Both story-wise, performance-wise and its emotional punch-wise, Mad Men Season 7 Episode 6 was one of the best of the series.
The phrase "you don't know what you've got til it's gone" came to mind more than once as I was watching, and it fit the story in several ways. Don is losing Megan just as he's beginning to appreciate how special she is to him. Pete yearns for his family and for Trudy and Tammy to be his again, even as he's taken up with Bonnie.
Working with Don again, Peggy recalls how magical it was to work with Don just as he's there to lend a hand.
Under it all runs the theme of family. The traditional family that Don and Peggy have spent years pitching to advertisers no longer exists, but by working together they discover that something equally as important has sprung up in its place.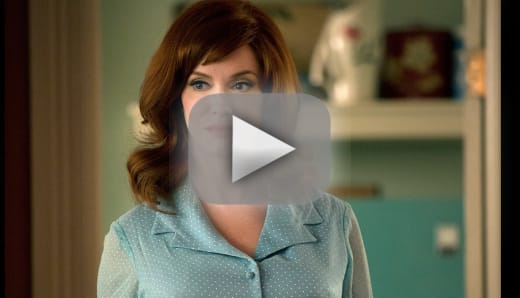 After a very long hiatus while working for Chevy in Detroit, Bob Benson made his return to Mad Men this week. He brought with him an executive from Chevy with similar sexual leanings who gets into a bit of trouble in the Big Apple. When Bob bails him out, he shares a secret -- Chevy is taking the XP in house and offering Bob a job at Buick. 
Because Buick wants an executive of a certain status, Bob puts it all on the line and asks Joan to marry him in one of the most denigrating proposals of all time. Anyone hoping to pop the question shouldn't bank on "this is the best offer you're ever going to get" to bring 'er home. Women would rather be alone than suffer through an arrangement such as Bob was suggesting and that was Joan's answer.
Pete returned to New York, as well, to get behind the Burger Chef pitch. While he's happy that Peggy is in charge, he suggests that Don should be the one to sell it to the client. Pete and Lou agreeing that Peggy is as good as "any woman in the business" was cringe-inducing.
Peggy proceeded to bounce back and forth with that phrase and her pitch for a while. She presented the idea to Don as if it was hers, and he felt good enough about the encounter to suggest another. That sent Peggy into a downward spiral of self-doubt that was only boosted by her recent 30th birthday.
Don wasn't faring any better. Megan also made an appearance in New York -- to get most of her things. The look on Don's face when he saw Megan preparing breakfast was one of love, a feeling I think foreign to him. It's even worse that the break she's making with him, although not in words, seems rather permanent. She's taking her most personal belongings back to California and suggests the next time they meet they do it somewhere neutral. 
His circumstance plants him back in the office with Peggy and although her initial welcome is less than warm and fuzzy, it starts with a brilliant Mad Men quote that starts to put these two lost souls and kindred spirits back onto the same trajectory.
Don: How's it going?
Peggy: Did you park your white horse outside? Spare me the suspense and tell me what your save the day plan is.
Don: I don't have anything yet. The idea I had wasn't great.
Peggy: It wasn't great. It was terrible. I wanna hear the real one. Or are you just gonna pull it out during the presentation?
Don: This idea is good. I think we can get the client to buy it.
Peggy: No you don't or you wouldn't have questioned it.
Don: I'm going to do whatever you say.
Peggy: So you're going to pitch the hell out of my shitty idea and I'm going to fail.
Don: Peggy, I'm here to help you do whatever you want to do.
Peggy: Well, how do I know?
Don: That's a tough one.
Peggy: You love this.
Don: Not really. I want you to feel good about whatever you're doing. That's just the job.
Peggy: What's the job?
Don: Living and not knowing.
The ice really cracked when Don told her when he's confused by an idea, he usually abuses the people whose help he needs the most and takes a nap. Peggy's smile at that all-too-familiar memory was so welcome. It has not felt right for Don and Peggy to be at odds and even less so the more they talked.
Don and Peggy are both intelligent, creative and alone. They have far more in common than not and that's what Peggy hates the most about Don being back. She fears what his presence means to her future with the firm, but I really believe Don when he says he wants her to succeed. It was another wonderful moment when he said he worries about many things, but never her.
When the song "My Way" started playing, at first I thought it was a song playing over the show and we were at the end. Incorporating into the scene was brilliant. If ever there was a man and a woman who could say they have done things their way, it's Don and Peggy. I daresay I cried when he asked her to dance. A first for me with Mad Men.
I have always thought that they have a very beautiful relationship that runs quite deep. Some people think that perhaps they will wind up together romantically because they are the only people not to have been on each others radar, thus it almost makes the most sense. I'm not sold on that.
What I am sold on is the idea of family. They are family. Peggy's idea to make Burger Chef the place to go when you need to be with family, and the shot of her, Don and Pete eating there said it all. Peggy and Pete have a child together, for goodness sakes. If the three of them are not as much of a family as the parents eating with their children at the other tables, then I don't understand the term.
Don has turned a corner. He's thinking about people other than himself first. He cares what happens to them and to the business. He gets excited at the little things. I cannot believe it's over next week for another year. If you've missed any of this fantastic season, you can watch Mad Men online via TV Fanatic.
Does your family eat dinner at the table together?
Carissa Pavlica is the managing editor and a staff writer and critic for TV Fanatic. She's a member of the Critic's Choice Association, enjoys mentoring writers, conversing with cats, and passionately discussing the nuances of television and film with anyone who will listen. Follow her on Twitter and email her here at TV Fanatic.