Mike Ross? Is that really you?
If we're talking Suits Season 4, which premieres on June 11, then yes.
But tonight we'll see a different side of Patrick J. Adams in NBC's remake of the classic horror novel and film Rosemary's Baby.
Adams plays Guy, husband to Rosemary (Zoe Saldana) and eager to be a success in his writing career while trying to help put a painful miscarriage behind the couple.
However, there are more demonic workings that come into play when the pair moves into an apartment with landlords that have designs on them and their family.
Having gotten an early look at the film, its two-night adventure (tonight is part one and the conclusion airs Thursday) will draw you in with solid performances by Adams and Saldana, as well as Jason Isaacs and Carole Bouquet, along with writing by Scott Abbott and James Wong and direction by Agnieszka Holland.
Adams jumped on the phone with me last week to talk about the role and also to give us a sneak peek into what we can expect on the new season of Suits...
TV Fanatic: Talk to me first of all about your preparation. Did you go back to the movie or the Ira Levin novel in order to play Guy?
Patrick J. Adams: I went through the book. I obviously did see the movie a bunch of times and I did re-watch it again. I think I knew just from reading the scripts that this was not so much like the re-make of that film. There's so many different details and different choices that they've made, taking the story in so many different directions, so I didn't feel like it was going to inform too much of…sometimes you can operate in the shadow of something like Rosemary's Baby, which was such a classic, amazing film but I think I just knew there were so many differences that I could go back and enjoy it for what it was.
TVF: As a viewer, you're constantly watching Guy, and kind of wondering how much he is involved and how much is he not involved, perhaps? Did you have in your head the moment where he is kind of pulled into the other side of things?
PJA: That's a really good question. We spent a lot of time talking about it and everybody has sort of different answers, which is so funny. There's so many different ways to play it. There's a world that I think is a little bit closer to the original film where he makes the decision just basically overnight and has just sort of given up. This is what we're going to give you, this is what you have to do.
I think by virtue of our film being a little bit longer but also by virtue of these two characters being almost much more in love than I think they were in the original film…I think that Guy deeply, deeply loves Rosemary and I think to that end that transition to deciding that's he's going to let them do what they say they're going to do,  think's a much slower burn, so I think that for my money…I believe that they're sort of putting things in front of him, they're sort of taking and saying what they want, 'we want you to have a baby, we want there to be a baby, we want to be involved in the baby's life,' but I don't think he fully understands how deep the rabbit hole goes until probably the end of Night One where Rosemary is actually impregnated. He doesn't really understand how deep he is until he's already all the way in the deep end.
That gives us more reason in this version for us to really see Guy wrestle with afterwards what he's actually done and trying not to take responsibility for it and trying to pretend like it was the right thing to do and see that this was for the best for both of them and knowing full well that it probably isn't. He seems to be a much more sympathetic character in this version than he was in the original [and] I didn't want people to just be watching and sort of hating him and judging him for what he did. I think we go a little deeper in this version and at least try and be able to take his side or see why he did what he did, even if it was so ultimately terrible.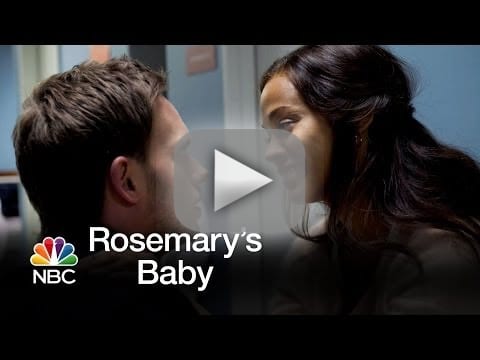 TVF: Tell me about working with Zoe. Were you close while filming or did you have to stay away from her due to what happens with your characters?
PJA: She's incredible, that's sort of what I was just thinking after watching that first night [of the film] last night. Watching her work was incredible. She just shows up, she's so present, so prepared, just like an incredible emotional presence and she's got this fierceness to her and she would come in and elevate any scene instantly and make it so real and so personal to her.
For me, coming into this and not knowing as many people…she sort of knew some of the people involved and I didn't know anybody and immediately she just pulled me in and gave me anything that I could ask for as an actor so I just sort of followed her…she's an amazing woman. She's such a completely different kind of version of Rosemary. I feel like Mia Farrow [who played her in the 1968 film] had this lost, childlike innocence whereas I feel like Zoe is this much more modern woman who's very powerful and very, very intelligent and she goes down this rabbit hole trying to solve this mystery of what's happening to her but I think there's so much power in her. She's a perfect woman to take on that role, and I really just sort of watched and learned the whole time.
TVF: Why do you think Paris was a good location for the film outside of the fact that you guys got to be there, because I was seeing your Instagram pictures, and it looked like you were having a blast when you weren't on set.
PJA: We had a great time in Paris but, for me, I felt lost in Paris…you get a sense of not being in your home environment and it puts you out of your comfort zone and I think for the purposes of this story I think it's a really interesting thing to take two characters who suffered a serious tragedy and just throw them kind of into the lions' den.
The original story takes place in Manhattan and there's something kind of gothic, especially with that 1960s version of Manhattan really becoming its own different sort of ancient American city at that point but Paris is a completely different thing. It's so dark, it's so gothic and at any moment you feel you could turn down a street, see any of these things that are happening in Rosemary's Baby happening right there. So much history, so many ghosts and so I think that just really was a perfect backdrop for this sort of story. It just creates an atmosphere that you can't really replicate anywhere else.
TVF: How was it working with that cat? It had such an ominous meow that freaked me out!
PJA: I was terrified of that cat [and] it was the cat's feature film debut. The first time the cat had done anything. Obviously it was a very specific cat and it was so funny, it would never want to be in a scene. Every time we'd have a scene and the cat was in the scene, he would keep jumping out of the frame and then any time we were in a scene where the cat wasn't supposed to be a frame, the cat would leap into the frame immediately.
In that first love scene where we come back from the party in Night One and we fall onto the bed, the cat was not intended to be rolling around on the bed with us but it was brilliant. The cat jumped up on the bed and so we shot all the shadow stuff, the cat's shadow, our shadows…it's a scene stealer, that cat.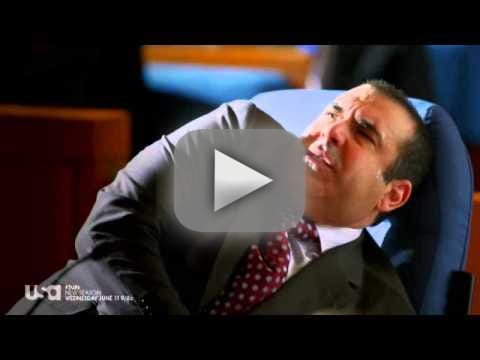 TVF: You're busy shooting the new season of Suits. What can you say about the new season?
PJA: The last season ended with Mike taking off from the firm and so we accomplished a little bit of a time jump. We pick up and we see him at work with his company, and he and Harvey sort of finding themselves on opposite sides of a very important case. Mike's choosing to go one way with it, Harvey's deciding to go another, so a little bit of a tete-a-tete and I think they're doing some really exciting stuff this season.
For me, as Mike, it's been great, to get me into a different realm and give me something different to do and it allows Harvey and I to have a new interaction that I think people haven't really seen since season 1.
TVF: Can we expect to see Mike kind of find his own way this time instead of just following Harvey?
PJA: Yes. Exactly. I think that this will really open up a way for Mike to own himself, his work, and he's no longer the sidekick. As they joked toward the end of that last scene in the last season, Harvey works for Mike now.  That creates a whole new dynamics that Mike will be telling Harvey what to do and how to do it. As you can imagine Harvey doesn't like too much.
Rosemary's Baby airs Part One on Sunday at 9/8 and Part Two on Thursday at 9/8. Suits returns for season 4 on June 11 on USA.  
Jim Halterman is the West Coast Editor of TV Fanatic and the owner of JimHalterman.com. Follow him on Twitter.