The story of Frankenstein's first born was learned and an alliance formed on Penny Dreadful Season 1 Episode 3.
I felt like just about the most fickle person in the world about 10 minutes into this episode. Just a few measly minutes was all it took for me to completely forget about my beloved Proteus and firmly plant the flag of my heart on Caliban.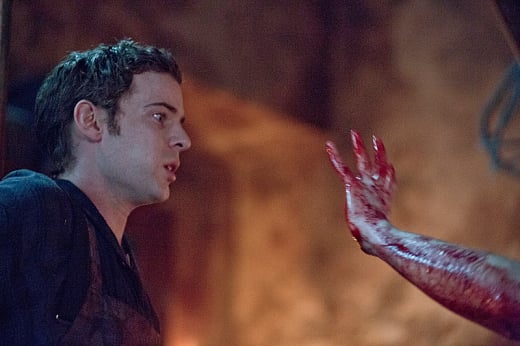 How could I help it?
Learning his story in his own words was a fairly emotional experience. I felt so awful for him when he came alive screaming in agony and then was immediately abandoned by his "father." What a terrible way to begin a life.
Is every newborn creature abandoned the moment they are born?

Caliban
When we first met Caliban, I immediately thought of him as a cruel monster. As he told his story, I kept waiting for a moment when we would see where he became evil, but it never happened. Even his reason for seeking out Frankenstein was not a malevolent one. All he wanted was to be given the chance to love.
So now we know that Frankenstein's bride will also be added to the cast of characters for this show. I wonder who will play her and what she will be like. If Proteus was anything to go by, each of his creations comes out a little more sophisticated than the last, which makes me wonder if the bride will want anything to do with Caliban once she arrives.
I learned to stay in the shadows. To protect such a heart as this you gave me.

Caliban
As for the rest of the story, I must tip my hat to Henry, who commented on the Round Table for last week's episode. He guessed that Ethan might actually be a werewolf and it certainly seemed that way from this episode. So much for my theory about him being Dr. Jekyll and Mr. Hyde, but I will gladly give up that theory as a werewolf is infinitely more intriguing.
The group's discovery of Fenton and their plans for him have me excited for future episodes. I feel that a war is brewing and I think it will take every member of the team and their special talents to defeat the creature and get Mina back.
Vanessa: She came to me.
Ethan: I take it you don't mean "knocked on the door and said hello"?
The last episode brought me to that "aha moment" when I realize I am going to love a series and this episode definitely clinched that. There was so much to love in this episode: Caliban's entire story, to the Ethan's interactions with the wolves (not to mention the fact that he took the job with Sir Malcolm so that he could help Brona), plus learning more about Mina's fate.
Freakiest bits:
Dog and maggots. That is all.
Victor's mother suddenly coughing blood into his face.
The creature wiping Proteus' blood all over Frankenstein's face.
Vanessa turning around to find a ghostly Mina asking for help.
Caliban finishing his story with Proteus' poor split body lying in the background.
Ethan staring down a wolf.
Vanessa coming across a Fenton eating a monkey. As you do.
Fenton slurping his own blood off the floor.
Fenton talking about his master was standing right behind them. Am I the only one who felt compelled to look behind them?
Fenton smiling freakishly as his master came to him.
Do you think they can "cure" Fenton?