Reign Review: We Can Make It If We Run

Gabrielle Moss at . Updated at .
Love - romantic, familial, and otherwise - was certainly a battlefield on Reign Season 1 Episode 21; why, it even had a body count!
But as much as I enjoyed Lola's sudden transformation from passive victim into Lady Macbeth, the real star of this show was the man who never showed his face.
Yes, kids, we are back on the trail of the Darkness! Glad to know Bash didn't just forget about it after he started getting laid.
So who is the Darkness? Well, we know from Pascal that he has pointy teeth, and he murdered Pascal's parents...except we now know that Bash murdered Pascal's father. I don't know, I wouldn't call Bash's teeth "pointy," exactly...geez, you're pretty judgmental for a 10-year-old covered in blood, Pascal!
And is Kenna's trip with Pascal somehow a trap? Was Pascal himself some kind of trap, sent to draw Bash and his family into unsafe places? Is Bash, with his pagan bloodline, somehow responsible for all of this?
Is Bash somehow the Darkness? Is this Fight Club? Is the first rule of Reign that you don't talk about Reign? (I have broken that rule a lot.)
Not that now wouldn't be a good time for all of court to blow up their apartments, assume an identity and move to the bad side of town. Despite a brief moment of lucidity, King Henry remains an insane, sweaty mess (though always a source of good Reign quotes).
What is that altar boy feeding him? It's gotta be the altar boy, right? I am calling it for the altar boy being behind all of this right now. He looked pretty sweaty and insane himself.
With this the penultimate episode of Reign Season 1, we've got a helluva lot of loose ends to tie up next week.
Is Henry actually going to try to kill Francis? Is Lola just going to easily transition into her life as a murderer? Is Bash going to realize who's father he's killed? Who on this show hasn't killed someone at this point? It's just Kenna, isn't it?
And where is Greer??? I mean, I know there are only so many minutes in an episode, but really. Leith must be home, surely she would have said something to one of her friends?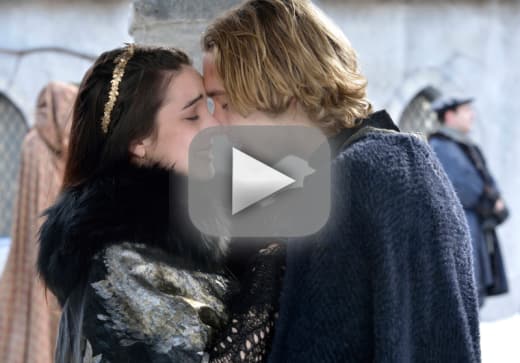 Official Reign FashionWatch: 8/10. Kenna's dress made her look like an Olympic ice skater going to the prom, which, as we all know, is an absolutely #flawless look.
And Mary was no slouch either, plotting murder in a see-through dress! Looks like someone is growing up!
Speaking of see-through, do you think King Henry will see this season through to the end (see what I did there?)?
Will King Henry make it out of Reign Season 1 alive?