Finally, the moment we've waited three seasons to see arrived on Revenge.
Emily took down Conrad Grayson.
Whether this takedown will stay remains to be seen, but for now - spoiler alert! - Conrad Grayson is behind bars and wishing Emily all of the luck he can muster for her Victoria Grayson-takedown.
If for no other reason than the way everything came together in Revenge Season 3 Episode 21, this was an excellent penultimate installment.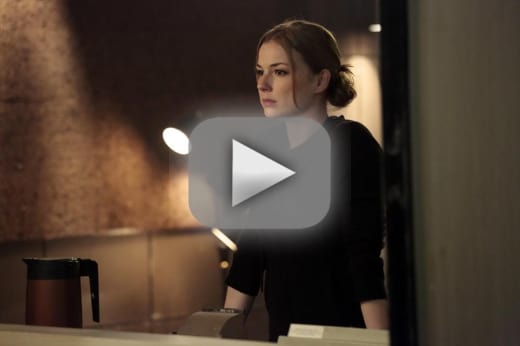 After three seasons, Emily finally made a permanent play for Conrad Grayson, using Charlotte to put him in checkmate. We watched as Charlotte Grayson was abducted in the closing scene of Revenge Season 3 Episode 20, thinking her captor was the David Clarke obsessed person in the cabin, but as it turned out, Charlotte's abduction was a clever way to force a confession out of Conrad.
No one but Emily knew it would come in quite the manner in which it did.
That's Emily, though. Always thinking ahead.
By showing Charlotte the truth behind Conrad Grayson and his lies, she ensured that Charlotte would return home and confront her father about his murderous methods of covering up his messes. And because she knows Conrad and how he reacts, she knew the confession would be explosive.
It certainly didn't hurt that Nolan Ross was parked right outside ready to hijack some video feeds and broadcast Conrad's secret confession all over the news, right? 
To be honest, I didn't think the confession would stick,and maybe it still won't. Conrad is the oiliest beast ever, so part of me wonders if this jail time will be short-lived or if we'll actually see Conrad Grayson paying for the crimes he committed. Regardless, it's nice to see him paying for something now. Finally.
Victoria, however, remains at-large, and a nemesis for Emily.
To quell her own suspicions, she swiped a DNA sample from Baby Carl and plans to use that information as her get out of jail free card with Emily. How Victoria figured out that Emily was the person who had kidnapped Charlotte simply by discovering that there was no DNA link between Charlotte and Fauxmanda is sort of out there, but Queen V is sort of good at Revenging without even trying.
The showdown between Emily and Victoria is the one we're all really waiting for, and with Conrad's blessing, and perhaps even his help, Emily's going for it. THAT is exciting.
Also exciting for those who love a good love triangle is the Jack-Emily-Aiden story. 
While I would love it if this ended with Emily donning the name Amanda Clarke once again and riding off into the sunset with Nolan so the two could just travel the world being fabulously dressed together--no romantic interests allowed--that's probably not what's going to happen.
It's hard to be completely sure what's going on there after tonight. Jack has been told twice now, by his mother and by Aiden, that he has feelings for Emily that go beyond just wanting her to finish her Revengenda. But Aiden telling him was something different.
Aiden told Jack that he and Emily won't work out. That he has to let her go. But then he told Emily that they're meant to be together and she agreed, and he seemed to believe the words he spoke to her very much.
It's hard to tell if Aiden knows that he and Emily won't be together when this is done and is trying to convince himself that they can stay together or if he only told Jack that he and Emily are a bad fit so that Jack would help them with Charlotte. 
So let's go with option C:
Emily has chosen Aiden but he won't make it through the finale and she'll take down Victoria and become Amanda Clarke again and run to Jack.
That's just a prediction, but it's definitely what I see happening. There were moments tonight when Nolan and Emily kept talking about what she'll do when this is all over, who she'll be. Emily admitted that she hasn't really let herself think about that and that Emily Thorne is an unfeeling automaton who gets things done.
Amanda Clarke, however, is buried deep inside her somewhere, right? She has to be.
What did you think of Revenge Season 3 Episode 21? Were you shocked that Emily was the kidnapper? Is this it for Conrad Grayson? Will he be staying in jail?
Here is your first look at Revenge Season 3 Episode 22, "Execution."
Miranda Wicker was a Staff Writer for TV Fanatic. She retired in 2017. Follow her on Twitter.