Revolution Review: Stands and Solutions
Nick McHatton at . Updated at .
Miles' near-death basement experience brought him clarity and focus to Revolution Season 2 Episode 20. 
Much to the disappointment of Monroe, that is.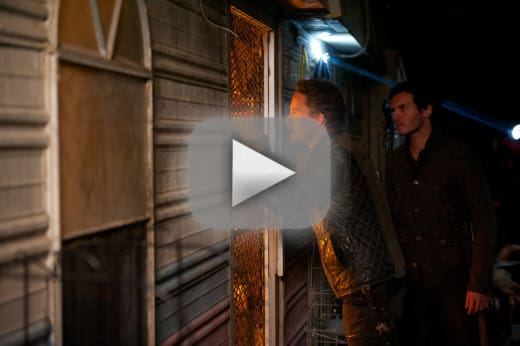 The installment mainly focused on Miles. His clever ruse with Rachel completely hooked Monroe. As much as Miles and Monroe work well together, Miles and Rachel working together are better - and splitting from Monroe gives Miles some time explore how he wants to shape his life without the Monroe noose hanging around his neck.
Miles took a stand here for himself and his future. 
Miles decision was a welcome change from where he's found himself for most of the series. He's plenty capable of thinking on his own, but he always ends up leading the charge and action for someone else.
He's willing to go along with Monroe's vision for years, but when he finds a better alternative (Rachel's), he finds himself fighting for a cause that he actually believes in rather than the one of least emotional resistance. 
Considering there's only two episodes left on Revolution Season 2, I've been hoping The Patriots would have more momentum in their story.
The beginning of the installment was well told, as Truman was fighting for his life in front of the President and so were Truman's actions and authority, as he made his first move against Miles and Monroe; however, after his mustard gas chemical attack, he once again went in the shadows. 
Monroe's plans for taking the entire eastern seaboard go past his prior visions for his republic are and part of these new visions might be fuel to win himself over to Connor.
The man's got a good shot at actually taking his Republic and Georgia back now that Tom wants to come along and enact revenge against the Patriots for Julia and Jason. 
Finally, Nano-Cilla and Aaron are incredibly boring. The nano's conclusion is not a surprising one at all: humans are usually the problem. Sure, the nano does not want to kill humanity, but just modify their limbic system.
But, like all humanity stories, what makes humans human are their emotions. If the nano change humanity to only feel happiness, they won't really be humans anymore. It's disappointing the nano can't pick up on nonverbal social cues because they would soon realize that Aaron is not always afraid of other humans but rather he's deathly afraid of the nano. 
What did you think of Miles and Rachel's plan to outsmart Monroe?