She's back!
After a thrilling first season, Rogue returns tonight on DirecTV for 10 more episodes of intrigue, complications and, of course, plenty of ass-kicking.
Indeed, Thandie Newton is back as Grace Travis, the police officer turned FBI handler who reluctantly returns to undercover work to to find a missing female FBI agent.
Besides her intense occupation, Grace also has to deal with her teenage daughter Evie (Sarah Jeffrey) while trying to keep the worlds from colliding.
TV Fanatic was on the Vancouver set last fall during filming of the new episodes and gathered up some intel from Newton as to what we'll see this season...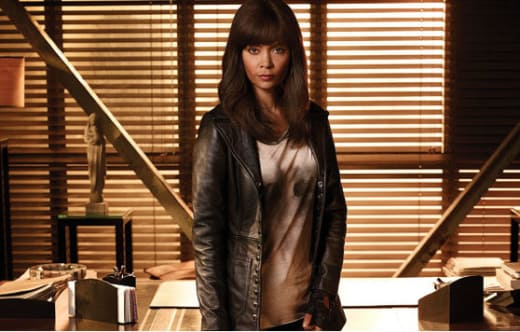 Self discovery: The first season dealt a lot of Grace reacting to the death of her son and, in Newton's word, the "authentic psychological journey." She said of the Grace we'll see in the new episodes, "we're seeing someone who's obviously going through a massive change in [her life]," Newton explained. "And now with Grace having resolved that episode, having grieved and got a degree of closure, she's now free to discover who she is." In other words, we won't see a Grace who is purely defined by her grief.
New Scenario, Job: With the second season set in San Francisco, location isn't the only thing that's changed. "Grace has taken time out from going undercover," Newton previewed. "She's not going undercover anymore. She's a handler, so she's not doing the job that she resented, which is an interesting step for her." And we'll see Grace's instincts for the job as strong as ever.
"She may have thought and the audience may have thought that the reason she tore into this crime, this intrigue, was because of her son. Of course that was largely [in the first season] but it's an instinct that she simply has and that's something that I think is going to build throughout Rogue's timeline."
New Faces: Watch for Cole Hauser to play a big role in the new season as Ethan Kelly, a security consultant who could be good but could just as easily be bad. And could there be a romance between Grace and Ethan? We also meet Andrea Roth (Blue Bloods, Rescue Me) who takes on the role of Marlene, Grace's no-nonsense boss in her new job. "You're her handler, handle her," Marlene says to Grace in the season premiere. Claire Higgins also appears as Grace's meddlesome and unconventional mother.
More Undercover: The missing agent, who Grace had been handling, brings her back into undercover work but Newton advised we'll see this step differently than we did in the first season. "So she does go undercover, but this time she's going undercover in a legitimate way," she said, clearly happy with this direction for her character.
"I love that because Grace is no longer a victim she's no longer looking over her shoulder, she's no longer in a place of any kind of guilt or shame that she's possibly doing something that she shouldn't be doing. She's legitimate and she's validated and that empowerment comes through." 
Family: Despite her new undercover role, Grace's home life is not exactly easy either. "She's no longer with her husband and there's still a family unit to consider," Newton said. "The storyline and family's is as prominent as her professional environment again and it's largely dealing with the relationship with her daughter but also her mother, who comes into the story."
Watch for some news from her ex to send Grace spiraling a bit in the season opener.
Keep An Eye On Ethan: Despite the charisma that Hauser brings to the role, Newton said he and his crew are very much a part of the dark side we'll see this season. "It's a huge amount of intrigue surrounding Ethan and his partners," she teased. "And this legitimate set-up that they've all got going on…fantastic chemistry between these guys. My relationship with Cole is when I go undercover, that's when I meet him for the first time."
The Audience: Newton knows there's one big reason why the show is back for Season 2 – the audience. "It's such a vote of confidence and feeling of validation, getting another season," she said. "It means that the audience has responded and that's a huge thing."
Rogue airs Wednesdays at 8 p.m. on DirecTV's Channel 239.
Jim Halterman is the West Coast Editor of TV Fanatic and the owner of JimHalterman.com. Follow him on Twitter.