Jack Bauer tells the President of the United States that he needs Kate Morgan by his side on 24: Live Another Day Season 1 Episode 6.
And finally the President shows some common sense as he responds…
Jack wants her. Jack needs her. Jack gets her.

President Heller
If only everything were so simple. But things just got a lot more complicated as the Prime Minister hears that Heller is under the care of a neurologist, possibly for Alzheimer's. Now no one trusts the guy in charge.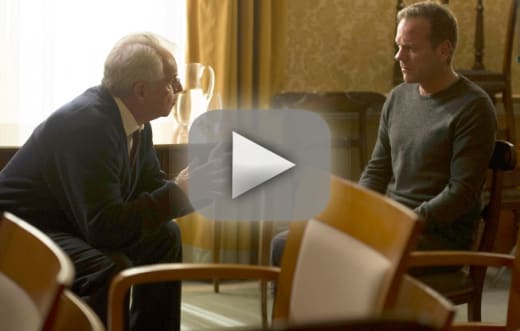 Least of all Mark, whose using it to try to ship Jack off to the Russians. But Mark's curiosity got the better of him as he confronted Jack about his meeting with Audrey. Jack's matter of fact response about most likely being dead or headed to prison after today did little to assuage Mark's concerns. 
Then in an interesting twist, Jack told Mark that Audrey said he was a good man and that she was happy. It's interesting because Audrey never said those things. She never answered when Jack asked those questions so either Jack felt sorry for Mark and was throwing him a bone or he realized that Mark's a lot less dangerous if he thinks Jack's not a threat to his marriage. 
Elsewhere, Margot sent Simone off to kill her sister-in-law and niece. I wondered if Margot was far enough down the rabbit hole to do it. Although she balked for a moment, when things went wrong the stiletto came out and there was blood on the floor. 
Would she have killed Jasmine as well? Probably. As she chased the girl through the streets I kept expecting Jasmine to end up hit by a car. I never saw it coming when Simone got hit by the bus. 
Kate Morgan was having one hell of a very bad day. First Jack drugged her up. Then Rask's men pulled her out of it only to hang her on a hook, electrify her and threaten to drill a hole in her head. And when Jack's well place sniper was about to save her, MI-5 stepped in and made things worse.
I'll admit, I was impressed when Kate started choking the guy with her legs and lifted herself off of that hook. Remind me to find that Thighs of Steel exercise workout this week. 
That Navarro was a double agent wasn't all that surprising. I haven't trusted the guy from moment one. However, the fact that he set up Kate's husband to take the fall was shocking. I can't wait to see how that turns out because Navarro is desperate to keep his cover and he'll take anyone down to make sure that happens.
So what do you think TV Fanatics? Will Mark ship Jack off to the Russians if he gets the chance?
C. Orlando is a TV Fanatic Staff Writer. Follow her on Twitter.