With Mike ready to kick his op into high gear, things are about to go from hot to scorching on Graceland.
It's clear the past is about to catch up to Briggs, even as he pushes to move forward. Charlie has cold feet about getting back into the field, Jakes got dealt a devastating blow in his quest to reconnect with his son and Mike helped Paige close one of her cases.
Indeed, Graceland Season 2 Episode 2 was jam packed and each piece put together today will no doubt have a significant impact on tomorrow.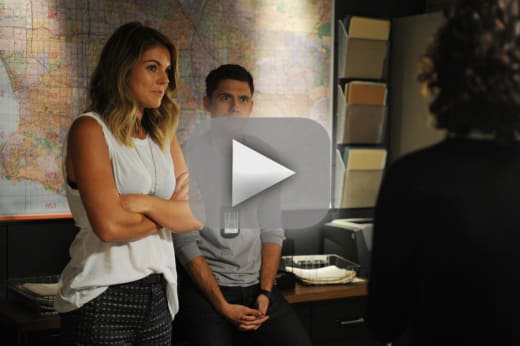 When Briggs offered to go down to Mexico, I couldn't help but believe to some extent it was a suicide mission. It just didn't seem like a smart idea. Then again, Briggs seems truly genuine about mending the bridges broken in Graceland Season 1.
What still seems out of place, though, is why this task seems so urgent for Briggs. 
Does he believe that if that tape that went missing ever re-emerges his good deeds will cover up whatever damage could be done by the tape's discovery later on? Or does he even care about that tape anymore?
Could he be more concerned about Charlie's impromptu surveillance of his widow and how that could possibly trace back to him?
Regardless, the man is treading on thin ice and it's becoming pretty clear to me that he's about to fall through; it's only a matter of time!
Another thing that appears to only be a matter of time is Mike and Paige. I think we all know they're endgame at this point and that Jess is clearly a flavor of the week.
What I'm not clear on, however, is whether or not Jess could pose a threat to Mike if she figures out about him and Paige and gets jealous. And since all of Mike's DC roads seem to lead back to her, she's starting to feel like a future liability, even if she seems friendly for the moment.
Speaking of Mike, it seems his op is already starting to yield some returns. He now has a connection between the information he came into on the buses and his current project - and that they finally have some direction.
This direction, though, forced Charlie into the field before she was ready. That doesn't sound like Charlie at all. She's that last person I would describe as cautious, but it's clear she's working through some things. At the same time, it opened the door for Johnny to step up.
One element of this episode that really caught my attention - and which I'm still trying to place the purpose for in the grand scheme of things on Graceland Season 2 - is Jakes' story. I was really excited for him and his chance to connect with his son, but it seems his past choice to give that up is a great source of pain for him right now.
I have to say, I don't understand why Cassandra is so insistent that he not be involved when it's so clear that's his greatest desire. I think she should honor that. But it really hurts to see Jakes so distraught... with a restraining order against him! Any Agents have thoughts on the future implications of this B-story for Jakes moving forward?
Another solid installment for Graceland.
So here's the question of the week: How close is Briggs to getting caught?
C. Charles is a TV Fanatic Staff Writer. Follow her on Twitter.