Halt and Catch Fire Review: All About the Struggle

Sean McKenna at . Updated at .
Were things just a bit off, even rushed perhaps, on Halt and Catch Fire Season 1 Episode 3?
I maintain that the construction of the portable PC is a fascinating one, and the moments where we get to see the innovative genius at work is exciting.
Having a scene where Donna Clark was able to help her husband and come up with the concept of a double layer was brilliant. Not only did we get to see some real progress, but it allowed for us to see Donna dish out her own significant scientific expertise.
It's not just Gordon who has the brains in the family, and I really like that aspect when it comes to her character.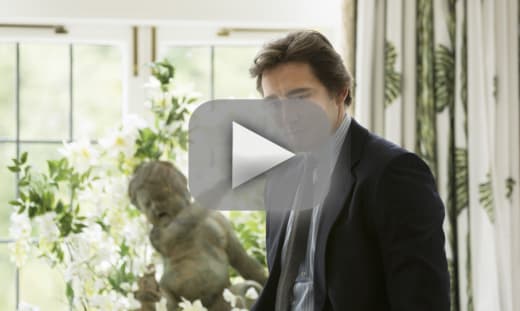 And clearly, she's also the type of character to just get her hands dirty and do what is necessary. You know, like with the bird metaphor. She's able to just pound it with a shovel, where Gordon seems to spend more time trying to think about what he should do with it. It's strongly similar to the way he handled firing some of the employees.
Certainly, I think Gordon's character is entertaining to watch whether he is flustered and uncomfortable or focused and in control.
But his journey for the hour was set by following the neighbor/employee (glad he could make it for just this episode) and abruptly changing course after a car accident. Did it knock some sense into him? He was willing to even ignore his own creative new idea because the mustached guy said he probably shouldn't "reinvent the wheel."
I'm glad Gordon seemed to change his mind (although work really seems to be taking its toll on him), but it just felt so sudden and swift, especially with the new character. He fired him in the car?
It was a similar type of feeling I had when it came to Joe's story for the hour. I think the character is fun to watch, and his cutting delivery of lines and salesmanship are memorable. And I get that he was slowly losing control as Cardiff Electric was trying to find a backer for their project.
But it was a shocking moment that seemed to come out of nowhere when he started putting the moves on another man. Is he interested in men or is he simply using his sexuality in a power play? He clearly got what he wanted with the deal being called off, but it all felt sudden and rushed.
I feel like I understand what the hour wanted to do in exploring Gordon and Joe, but maybe it needed more time before the drastic jump moves their characters seemed to make.
As for Cameron, she too was making her own head scratching moves. Like, why did she suddenly decide to join up with some punk kids and throw a rager in the hotel room? Was it to express that she's moved on from that type of life and despite her struggles with writing the BIOS, that's her life now?
It just felt random, and frankly, I'm a bit tired of her doing everything but getting her work done. I've seen more dance scenes, stealing stuff scenes and erasing lines of code scenes.
And on top of that, she runs to Joe (most likely for sex?) all because she's stuck. Haven't we seen this before? I guess I want to see her at least get some coding done, not just be frustrated all the time, and dive into more than just this rebellious prodigy. There's got to be more, and I'd love to start peeling those layers back.
Granted, I appreciated that the episode did spend some time trying to make John the boss more than just an angry caricature pulling the strings but failing. From his conversation with Cameron, watching him try and learn more about computer code, even in his dealings with Joe, it's great to see him expand as a character.
Ultimately, the whole of Halt and Catch Fire, even with its PC innovation, rests on its characters. And I'm still really intrigued by them all (now even more with John and Donna, kudos on that front), but the characters seemed to be rushed during the hour rather than following a more natural course. But even so, even with the characters in some odd places and decisions, I understood the core concept of that struggle.
So sure, there were some missteps and drastic-feeling character choices, but there's still enough to like about the show to want to keep going and not simply shut it all down. I really do want to see just how this PC is going to be made.
Will Donna help or hinder the PC project?
Sean McKenna was a TV Fanatic Staff Writer. He retired in May of 2017. Follow him on Twitter.