Am I the only one who wanted to shake Savi at the end of Mistresses Season 2 Episode 3? It can't be just me, right?
Imean, first creepy (albeit hot) Zach shows up late to the open house and then he shows up at her door days later, acting very strange and she just stands there with a smile. 
I found myself waiting for the guy to push his way in and stab her with a kitchen utensil. Luckily, this is Mistresses and not CSI.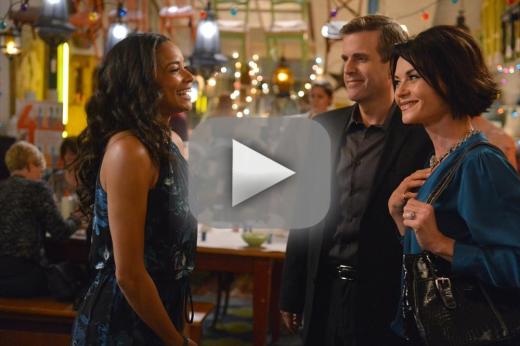 Who is Zach? What does he want? And does Savi really need another incredibly hot guy on her doorstep? Never mind, that's a dumb question. But no one can say she doesn't have enough issues with the men in her life. 
Let's start with Harry, who can't even bring himself to talk to Savi. He couldn't even take Joss' advice…
Fine, if you can't talk to her then text her. That's why texting was invented, to avoid any chance of intimacy.

Joss
Since when did Joss end up being the most level headed woman in this bunch. Well, maybe that's pushing it, but not by much. 
But back to Savi and Harry…
Their fight was brutal. He's still completely broken over laying his heart on the line in that hospital room and having her choose Dom anyway. The look in his eyes was crushing. To Harry, Savi is the most selfish woman he's ever met. 
Savi's quick to point out the other side of that coin. Harry spent months freezing her out after she'd cheated on him and she felt the only reason he forgave her was that she was on death's door. It had gotten to the point where neither one of them trusted the other. They still don't and for all of the love that was once there, now there's nothing but sadness and pain. 
Back at work, Toni's dresses were so tight that I wondered why she bothered wearing them at all as she pushed her cleavage up into Dom's face as she pouted about having to split his attention with Savi. Extra points to Dom for actually being able to look Toni in the eye during that conversation. 
April had the strangest day. First Mickey's helping her throw a party that has half naked men splattered in paint and serving tequila. So that's what things are like at private school, not that I'm complaining. 
Steven tuned out not only to be an ass during their date, he's also married and the father of one of Lucy's friends. Awkward!
And who do I need to log a complaint with for not having any sexy, smoldering Daniel in this ep?  I don't know how Daniel and April are going to top their lovemaking on canvas but I'm certainly looking forward to them giving it a try.
Dr. Kim was almost kind of normal… in her Karen Kim train wreck kind of a way as she was on her way to meet with Jacob. Joss had to clarify that in this Mistresses quote…
Are we talking about the same Jacob who reported you to the psych board to have your license suspended?

Joss
Yes, that Jacob. Apparently, Karen's pretty clueless when it comes to dating unless it's one of her patients. So will Jacob change his mind and search her out once again? My guess is that these two will hook up before the season ends. 
But it was my gal Joss who had most of the best lines of the night. Now it's your turn TV Fanatics. Tell us which one was your favorite.
C. Orlando is a TV Fanatic Staff Writer. Follow her on Twitter.