The review for Rizzoli & Isles Season 5 Episode 4 was almost titled Zoinks! or Ruh-Roh due to all of the Scooby Doo references.
Much like Jane, I was a big fan of the show as a kid. I was just waiting for the Mystery Machine to turn the corner.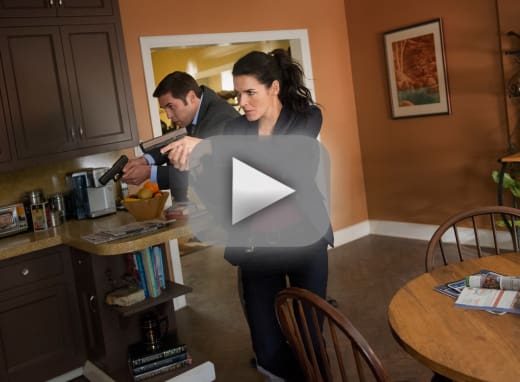 And Maura is definitely the Velma of the group.
But "Bug Out" seemed the more appropriate title given the subject matter. I also found it morbidly amusing that every time someone bugged out to their fallout shelter, they ended up dead. It gave a whole new twist to the doomsday scenario. 
I was a little surprised how seriously Frankie took to the survivalist philosophy, as he explained in his crude but possibly accurate Rizzoli & Isles quote…
They seem nuts until the shit hits the fan and then we all come running to them for toilet paper.


Frankie
I liked how each one of the survivalists had to try and be their own psychic. To be prepared for the end of the world, they had to decide how it would end. Natural disaster, nuclear war, bio-terror? 
But they all believed that paper money would be worthless so they were trading it in for something else, whether that be fuel, gold or diamonds. I had to laugh when the wife of the man hoarding diamonds sighed that she didn't even get a pair of earrings out of the deal. 
Angela was definitely showing her nosy side in this episode. There's being protective and then there's being too involved in your adult children's lives. Tonight, I think Angela's badgering stepped over into the latter. 
It was sad to hear that Frankie believes they'll never permanently assign him to homicide because his sister is already there, but it's probably true. He'll certainly never replace Frost. No one will, but I enjoy having him work with Jane and Korsak and I hope it continues. 
Jane freaked out a bit when she saw those retirement papers on Korsak's desk.  On top of losing Barry and finding out that she's pregnant, this was just one too many changes for her to deal with but at least her bickering with Korsak was amusing...
Jane: When did you become so secretive?
Korsak: When did you become so nosy?
Jane: Have you met my mother?
In the end, it turned out much as I'd expected. Korsak was looking at all of his options, from retirement to taking the Lieutenant's exam. As he's one of my favorite characters I hope he stick around for a long time. 
So... what do you think Scooby Doo fans. Is Jane a Daphne or a Velma?
C. Orlando is a TV Fanatic Staff Writer. Follow her on Twitter.