Didn't see any of that coming? Neither did we!
And that's probably why Royal Pains Season 6 Episode 8 was one of the better episode coming down the back stretch of Royal Pains Season 6.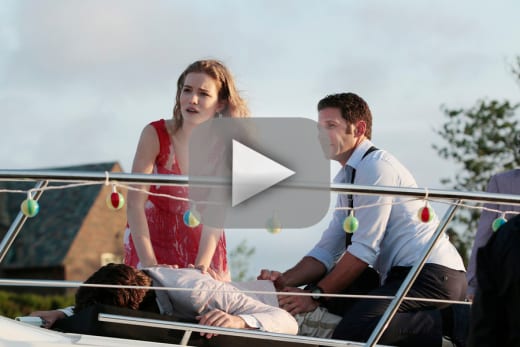 There were hot guys, deception, romance and at least one kleptomaniac - or can we even call Russell that?
The shockers started with Hank's lover, Charlotte, appearing in the Hamptons. I have to say, I was pretty surprised to have that story thrown in there and I'm not sure in what way it will contribute to Hank's character growth as of yet.
This initial introduction was just enough for me to get the chance to find out what the deal with her is. It's kind of a nice twist she's blind, but it allowed for too many moments of blatant insensitivity from Evan, which is actually par for the course.
Do I want to continue to see Hank and Charlotte moving forward? Still hard to say.
It has been a while since we saw Hank in a stable relationship, so it might be nice to see how he is now, as opposed to who he was when he dated Jill or the few other choice females since whose names are now lost upon me and likely many of you Hamptonites out there.
Another idea thrown out there that was a little left-field was that Emma, who at least until now has spent a considerable amount of time behind the camera, is now the object of SnarkHamptons affections - or at least gossip. Suddenly she's being invited to events out of the blue and offered sponsorship in the form of swanky Hamptons swag.
Perhaps she will even be courted by this Cinco fellow. I would keep him, he buys his lady shoes! Granted, we know it was as an apology for his sister's associates' behavior over he shoes, but, come on, what a winner!
I have to say, though, I think this whole thing she's got going on with "The Wizard" (as I will now unaffectionately refer to Oz) has got to stop. The guy is obsessed with getting his "pics" while she's at the event. Maybe she could snap something if he stopped texting her every five minutes!
But, seriously, I am just getting the idea the dude is dangerous, while at the same time thinking it will turn out to be some fifteen year old girl behind a computer somewhere. Where do you land on the Oz issue?
On a lighter note, I was kind of a fan of Paige and Evan enlisting Bob to do an intervention with Russel over the rug. That was pretty entertaining. What was even more so was Russel essentially giving Paige a tour of all the things he re-appropriated from previous clients.
I would be interested in seeing what in that home actually belongs to him!
But perhaps the moment that had me yelling at the television the most was when Divya walked out of the hospital and watched the cash exchange between Vivianna and Jeremiah. We know it was a harmless payback for concert tickets, but with Vivianna dressed the way she was and the late night exchange in a dark alley, we all know that Divya must have thought she was a prostitute.
While and unfortunate perception, it will no doubt be one Divya will find herself compelled to address and how Jeremiah responds will likely end up being a GIF-worthy moment.
So, whose story line surprised you the most, Hamptonites?
C. Charles is a TV Fanatic Staff Writer. Follow her on Twitter.