Consider yourselves warned, Supernatural Fanatics: Demon Dean Winchester is on the loose.
Attendees at this morning's San Diego Comic-Con panel were treated to a sneak peek at Supernatural Season 10, one that featured Dean acknowledging what he is and telling Sam that guys like him are "the natural order."
He then attacks his brother with an axe, while Sam responds by putting a knife to Dean's throat. YIKES!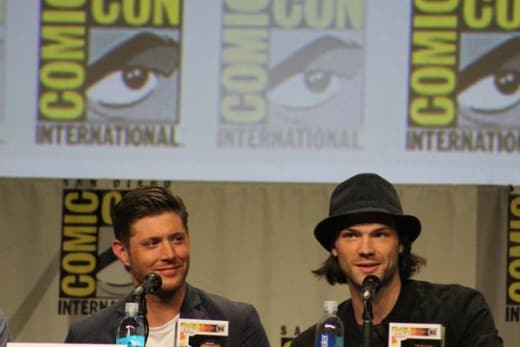 "Dean's altered course will "have an enormous effect on the season and on the brothers," executive producer Jeremy Carver teased. "These boys really dig into, Sam in particular, how to rescue his brother from being a demon."
Dean, meanwhile, will "struggle with what it means to be a demon," according to Carver. "It's very, very exciting. We're really excited with the idea of these brothers questioning who the real monster is. It's exciting and very moving and emotional."
Among other notable Supernatural Season 10 notes, tidbits and spoilers from the (handsome) panel:
The 200th episode will "musical-ish," as says, with Ackles hinting that the season opener will feature Demon Dean "doing karaoke.
Yes, Castiel is growing weaker, but he's still putting others first. "Castiel is concerned about trying to help Dean get patched up again more so than he is about getting his own powers back," Misha Collins said.
Mark Sheppard admitted that Demon Dean will be a load for Crowley to handle, as we'll see whether he "has any control" over him.
"You can expect a very healthy dose of new and returning, very strong, very powerful female characters this season," Carver promised.
Supernatural returns with new episodes on Tuesday, October 7 and you can always watch Supernatural online prior to its premiere.
Matt Richenthal is the Editor in Chief of TV Fanatic. Follow him on Twitter and on Google+.