The Leftovers Review: Don't Forget Me
Leigh Raines at . Updated at .
The holiday season can be difficult for many people - and that was especially true in The Leftovers Season 1 Episode 4.
It seems there is no rest for the weary in Mapleton, not even on the Christmas.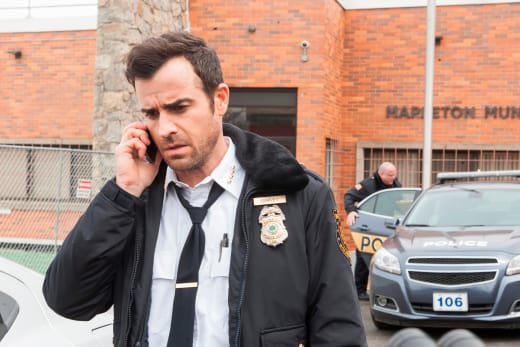 When HBO issued screeners of the first 5 episodes, The Leftovers Season 1 Episode 4 was actually left out. Apparently it had to do with post production and re-shoots but here I was expecting some crazy, spoilerific episode that was going to blow our minds.
What did we get?
Another reminder of the misery these people are dealing with day to day. 
First off- someone stole the baby Jesus from the nativity scene. Despite the fact that it was clearly a prank by some punk kids- Hey Jill- the Mayor insisted Kevin find it to restore some faith in the town.
Lucy: Here's what you're gonna do. Get the f*cking baby, open the box, strip it naked, scruff it up, and you can say that you found it in a ditch or a dumpster or something.
Kevin: And why would I do that?
Lucy: Because you need a win Kevin.
Turns out that Pastor Matt who The Leftovers Season 1 Episode 3 focused entirely on, could've just whipped out his spare. By the way, what was the point of that episode now? Was it just to show the constant curveballs that life throws at us? Karma? The Guilty Remnant's intent to make everybody miserable, perhaps?
Kevin thought he had a win when his guys arrested the GR who showed up at the school, but looking at Ann Dowd's smug face in the back of the police van proved otherwise. The rest of the GR were out like the Grinch creeping through people's houses and stealing their framed photos of those who were lost.
Look the GR does a lot of weird stuff, but for some reason this just infuriated me. First of all, you're trespassing. Second of all, why shouldn't we remember the ones we lost? Who gives you the right to steal those precious memories? Aren't they supposed to be some sort of living reminder?
It seems like everybody is just looking to be saved on this show. And if you God forbid you are just trying to move forward after tragedy, all these nutso cults will come for you. Then there are the people who aren't ready to move on.
Take Jill for example. Her statement about not just being able to replace the baby Jesus with a new doll was somewhat telling.
You can't just get a new one it's sacred.

Jill
Jill doesn't want to be forgotten. Jill is still here. Her mother is living across town and not speaking to her. She gave her a lighter that said "Don't forget me." Laurie wants to be in a group that serves as a reminder to people? How about remembering her own daughter still needs her.
It's very clear that the Garvey family is just beyond broken. Tom has totally lost it and is on the run with a pregnant girl who got attacked after some crazy guy in a hostel claimed she predicted a dream that she would be standing among bodies covered in white. Eerily this did come true and I'm not sure what to make of it.
Kevin finally confirmed that he did cheat on Laurie. Laurie served Kevin with divorce papers even though she said he was a great husband and father. The Garveys are pretty screwed.
So which Garvey had the worst Christmas?