What happens when you lose the love of your life and one of your best friends?
We'll find out on The Vampire Diaries Season 6.
In an interview with TV Guide, executive producer Julie Plec said new episodes of her CW hit will pick up many months after Bonnie and Damon seemingly died, with various characters reacting to these deaths in various ways.
"Elena has returned to her life at school and seems to be doing well, but the mystery is really how well is she doing?" Plec teases. "And she's got some odd and awkward coping mechanisms that inform a lot about where she is and how she's handling this particular grief."
Visit TV Guide for the full interview with Plec and scroll down to learn where others are (mentally and physically) when we meet back up with them this fall...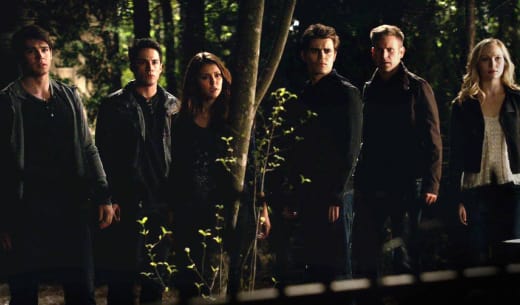 STEFAN: He and Elena will "connect over the fact that sometimes it takes extreme choices to move past something that has hurt you so deeply… we will see their friendship be strong and healthy in spite of the way each of them individually are dealing with their loss."
CAROLINE: "She's taken this loss - in a weird way almost the hardest - so she's going to have to bounce back in her Caroline way. Who she bounces back with and how she does it and how she's living her life is revealed in the first episode."
ALARIC: "He was turned into a breed of original vampire and then set on a killing mission and then he died, so after being a weird vampire and a ghost for all this time he's assimilating into his life as this creature he never wanted to be. But he's still trying to be the human that he was and it's not easy for him."
Look for a new woman to also enter Alaric's life, while his bond with Elena grows stronger than ever.
The Vampire Diaries Season 6 Episode 1 will be titled "I'll Remember" and it will air on Thursday, October 2 at 8/7c.
Matt Richenthal is the Editor in Chief of TV Fanatic. Follow him on Twitter and on Google+.