Fall Preview: Who Survives on Chicago Fire? Who Killed Jin on Chicago PD?
Jim Halterman at .
Chicago is about to get very busy again.
With both Chicago Fire and Chicago PD charging back for new seasons, there are a lot of questions about lives left in the balance, the state of various romances and whether a certain bad guy is really as bad as we might think.
It's a good thing, therefore, that I had a chance to sit down with Executive Producer Matt Olmstead to get an idea of what we can expect from both dramas when they return next month.
Who lived or died in the explosion on Chicago Fire?
Over on the spinoff, is the relationship between Burgess and Ruzek staying on or turning off? And just how quickly will we find out who exactly killed Jin last season? Let's see what Olmstead had to say...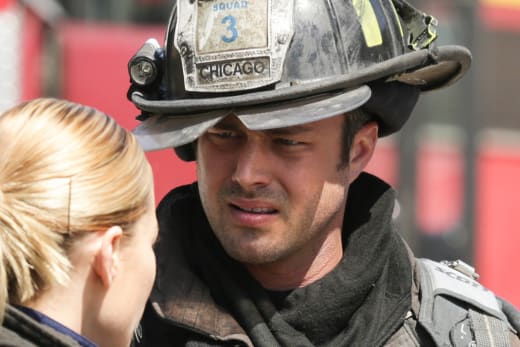 TV Fanatic: Usually when there's a spinoff you might want to veer away from the mother ship in a way to create your own world, but you've really done a great job with both shows existing very close to one another.
Matt Olmstead: Well, there's the little version or the big version. What's funny is at the very beginning when we had both shows, Dick Wolf said, I remember, 'I want it to be Dickens' London where you read one novel and then one character comes over.' Even if it's a cross like on one episode of P.D. they needed a Russian translator and they went and got Otis from Fire to come over to do it. So you have the little crosses which we can do much more frequently and successfully.
Then there's the bigger [crossovers] which require a lot more thought. So the one we did last year, there was a bomb episode, very difficult undertaking, huge credit to production out in Chicago for being able to pull it off but it was worth it. It really looked great. So we want to do one or two of those a season and then we'll have smaller ones throughout the whole season.
TVF: Let's talk Chicago Fire first. The season ended with a big boom!
MO: We're picking up right after and then we jump ahead because not everybody makes it out of that building.
TVF: How do you approach who will live or die? Because as a viewer, as much as we love these characters, you also might feel a little let down if nobody perishes.
MO: That's right. We need the consequences especially when you're doing a show where there's risk involved. If it's a lawyer show I guess you could still rub people out, but I remember I was on Prison Break and that show was so heightened but we knew that we had, every once in a while, the right time to shed characters otherwise people don't believe you. It felt like storytelling-wise it was time to have a big cliffhanger [on Fire] where it was time to have, on the other side of it, someone had to go.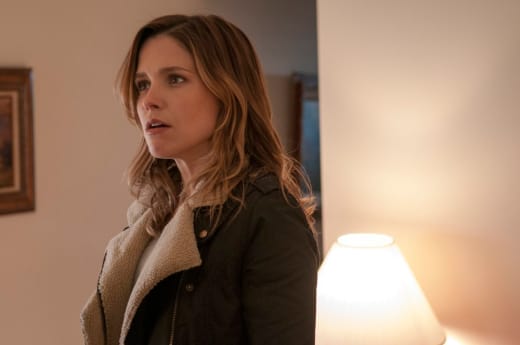 TVF: So over at Chicago PD, we have the 'who killed Jin?' story. What can you say about that mystery?
MO: It opens the season. It is the mystery. It's resolved fairly quickly because ultimately the mystery isn't the big story. It's the ramifications of who did it, why'd they do it and how people within the squad feel about it. So that gives us easily the first three or four episodes.
TVF: Are we going to be surprised?
MO: Well. at the very end. we purposely went off on Voight and Stillwell. It's only one of two guys so it's a coin flip. It's more of the ramifications afterwards.
TVF: We've got a little romance between Burgess and Ruzek. Where's that going to go?
MO: We want to keep that alive primarily because we have Halstead and Lindsay, who were going to [dive into a romance] and then Voight said 'don't do it' and they're smart enough not to do it. So that's one of those traditional television [devices] where you want it but they can never go forward.
And then by extension, we couldn't have two of those [types of] pairings so Ruzek and Burgess are hot and heavy and then they break up, hot and heavy, then they break up. For her, she knows 'it kind of cost me my slot up in intelligence but now that I've already got dinged for it, well I might as well enjoy the fruits of my mistake.' So her choice is going to be either, 'am I really into this man and then I'll figure out the cop stuff somewhere else?' or 'do I really want to go to this department, and then…so that's what she's constantly flip-flopping on, as is he.
TVF: Now that Atwater has been promoted, what will we see with him this year?
MO: What's great is that he made it to intelligence so he's been promoted so just like with the Mills character in first season of Fire or Ruzek in first season of P.D., he's the eyes and ears for the audience because he's so new to it. But it's also great, it's a nice promotion for him and when we did kind of the backdoor pilot on Fire we had a bunch of actors, he's one of the few who remained, local guy, right out of Chicago.
TVF: Once Chicago P.D. got on the air, what was the biggest surprise either in fan reaction or the directions some of the stories took?
MO: The interesting thing for us with P.D. by far is Voight at the center of it as a dirty cop. We put a lot of time and care into crafting what he did as a dirty cop and then the flip where he reports to internal affairs. Also early in the first season he's a dirty cop but he's in the process of trying to free this kid up from a gang. So keeping the audience in balance when they see him - is he going to do something dirty? Is he going to do something good? I don't know what's happening.
TVF: It is an interesting time in TV where you can definitely have a not-so-good guy at the center of a show.
MO: I'll tell you, if we were to pitch P.D. without any history on Fire there's no way you'd be able to sell a dirty cop as the center of this. There's no way. But we inherited that character so like, 'how are we going to make it work?' But what made sense to me was when Jason [Beghe] came to the writer's room and he was looking at the board and he's just a really good guy and he was talking about how he approaches a character.
He's like, 'I look people in the eye. I make a decision like that. I live with the decisions. I protect this city and if people don't like it they don't like it.' So the way he was characterized it was like an honorable pursuit. Has money kind of fallen off the truck for this character?
Yes. Has he gone outside the boundaries? Yes. But for him it's always about preserving the city and his family which is why on Fire he went too far to protect his son putting the screws to Casey…he's about protecting the city by any means necessary for him. It's not just a guy out there who's stuffing his pockets and shaking down dope dealers. 
Chicago Fire returns on September 23 and Chicago PD returns on September 24, both on NBC.
Jim Halterman is the West Coast Editor of TV Fanatic and the owner of JimHalterman.com. Follow him on Twitter.