The summer is quickly drawing to a close, and Graceland Season 2 Episode 11 reminded us that the lies these agents have been carrying with them have every intention of coming home to roost.
Unfortunately for those involved, a few of those truths came out on sauce night - and it was as bummer!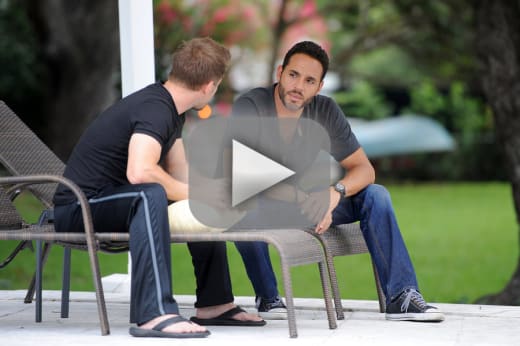 Perhaps the most unfortunate part, though, is that Briggs finally had to face up to the truth. And not because he felt compelled to, but because the one person from whom he tried his hardest to conceal Juan Badillo's tape and his murder became the one person to come into possession of the tape: Charlie.
Yes, in the midst of her surprise pregnancy in Graceland Season 2 Episode 10, Charlie came into possession of the tape and learned that the future father of her child was also a murderer - and apparently with designs to take Mike out of the picture during tonight's heist!
It's not a surprise that Briggs was on track for a breakdown - the sleepwalking and dreams of killing Mike were a dead giveaway - but I wasn't 100% clear on his intent to kill Mike.
The man really has lost his mind. I don't honestly know what's next for him. Where do you go when the tape is in the hands of someone you know, especially if they don't turn you in?
Oddly enough, Mike is in the same boat... whether he realizes it or not. He is so intent on catching Briggs in whatever lie Mike thinks he could be caught in that he doesn't realize he's one intuitive inquiry or move away from tipping his hand to Paige, to whom he, like Briggs, should have also come clean immediately.
So while Briggs and Mike focused on inching one another out of the operation or into the truth, both their female confidantes are only a step away from outing them. And tonight, one did.
And then there's poor Johnny, who, in the midst of the bickering that broke out during their attempted "family" dinner, revealed his involvement with Lucia to the entire house. In doing so, he became the hero in this installment, as he is the only one of the men in the house with an operation-compromising secret to come clean with the least prompting to do so.
For this, my friend, you deserve a standing ovation.
I'll be honest, though: I am still a little shocked that Charlie had the tape. Who did you think had the tape, Agents?
C. Charles is a TV Fanatic Staff Writer. Follow her on Twitter.