If feelings are the enemy, then this house is getting invaded right now. Or so Graceland Season 2 Episode 8 would lead us to believe.
Briggs' guilt over Juan caused him to get over-involved with Kelly. Paige's desire to save Lena and the other girls has placed her at odds with Mike and Johnny's connection to Lucia has made her a pawn in Mike's plan.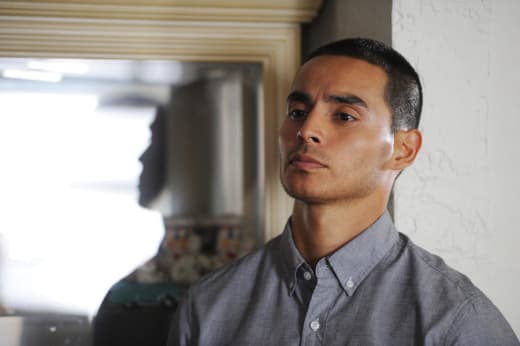 The emotional entanglements were on full display this week, with a few side-stories built in. I think my favorite tie-in is Charlie's quest to become a bank robber.
Granted, I am having trouble remembering what value pulling off this job will bring to the greater good. Even so, this logistics genius is quite the character and it seems like she and Charlie could get along well. I mean, who robs a bar and orders a burger to go?
It was equally entertaining to watch Jakes try and locate a plane for the latest phase in Mike's plan. That phase, however, once again relies on his manipulation of the feelings of those involved, mainly Johnny and Lucia.
Because Mike needs eyes on Solano, he's decided that Johnny can manipulate Lucia into going home by making her a person of interest in that homicide that took place in Graceland Season 2 Episode 7.
I really feel for him because I think he really likes this girl, and to be quite honest, I think going to Mexico at this juncture is dangerous.
Another thing that seemed a little dangerous was Briggs' involvement with Kelly. And if those last few seconds of the episode are any indication, we have right to be concerned. When Kelly called, we had to know that Briggs' was going to end up at her side.
What I didn't see coming was Sid having tracked Briggs and inserting himself into the situation. Now his cover with the local PD could be blown. Not only that, but now he's had to implicated Kelly in a lie, and confess that he knew something about her late husband, which is probably even worse!
An additional situation that is bound to get worse? The relationship between Mike and Paige. It's been in a bit of a downward spiral only made worse by her insistence to find a way to get those girls out of the sex trafficking ring. I have to say, I'm with Paige on this one; get those girls out of there.
I am just wondering for how long Mike is going to continue to be willing to prey on the feelings of his friends to get his work done, even if it means he has to disregard their feelings completely.
So, do you think Briggs' transgressions are finally going to catch up with him?
C. Charles is a TV Fanatic Staff Writer. Follow her on Twitter.