Those who have looked a bit into the background of Bill Masters and Virginia Johnson know that their relationship and work spanned decades. 
In order to advance the story, Masters of Sex Season 2 Episode 7 made the bold choice to jump forward over a period of approximately three years.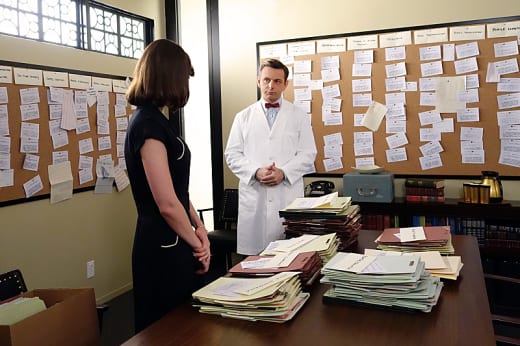 First off, the point at which the story began to fast forward is essential to acknowledge. After Bill found out at the end of Masters of Sex Season 2 Episode 6 that Virginia was still dating and sleeping with other men during their "studies," he completely flipped a switch.
If people thought Bill was hotheaded and made emotional decisions before, he just turned up the dial.
So after cold turkey cutting off his personal relations with Virginia and having been fired from Buell Green, Bill opened up his own clinic. His professional relationship with Virginia continued within the office and they even took on a newly divorced Betty as part of their staff.
I must say, I was proud to see Betty take steps towards getting a degree and becoming a bit of a businesswomen after her divorce. I feel like this was truly moving forward and up for her and it was a surprising gesture that Bill made. 
Despite the fact that Bill and Virginia are now able to conduct their study without the looming presence of a disapproving hospital board, an iciness still exists between them setting up a slightly uncomfortable work atmosphere. 
The entire situation can be pinpointed to one main issue: Bill and Virginia are emotionally attached and he's jealous of her boyfriends, meanwhile still goes home to Libby at night. Using a more modern-day term Bill basically takes to slut-shaming Virginia and her many boyfriends and even drags her children into his argument.
Virginia: It's unreasonable. You go home to someone every night. Why can't I go home to-
Bill: Fill in the blank?
Perhaps Bill should take a closer look at the effects their affair is having on his own personal life. Libby is dissatisfied and has finally taken matters into her own hands to get the family she wants. She and Bill haven't had sex in over a year yet she has a second child thanks to fertility treatments. Thankfully, Bill recognizes he at least owes her that much.
The new clinic doesn't perform that well financially in the early days and rather than take Essie's money, Bill takes out loans against his home. He repeatedly sees prostitutes but routinely exhibits impotence. Maybe it just seems obvious to the viewer that Bill internalizing his stress while pining for Virginia is taking a toll in all other aspects of his world.
After running into an old flame, the same old flame that caused Bill to go into a tailspin, Virginia did some inner reflection and ended up running back to Bill. I'm not sure if she felt that Bill was right, if she realized she was fooling herself about her feelings, or what exactly went through her head...I just know that it lead her back to the Park Plaza Hotel.
Interestingly enough, when Bill inquires about becoming a concierge doctor in lieu of paying for hotel rooms he finds that his favorite bellboy might know his true identity after all. Between Elliot's comments about Dr. Masters and Libby inviting Virginia to the lake, it has made me wonder:
Do more people know about Bill/Virginia than they realize?
Overall I enjoyed an episode that moved us forward over a few years. It felt like we got to see progression among the characters while also acknowledging that something will hold steadfast through the years. The cameos from Austin and Lester were also entertaining.