On August 9, Starz will introduce another epic drama, but what you may not know is that Outlander stands above the pay cabler's other stellar offerings, such as DaVinci's Demons and Black Sails.
Outlander comes with a rabid fan base, courtesy of the Diana Gabaldon book series, yet that only creates bigger expectations for the likes of Claire, Jamie, Black Jack Randall and the rest of the characters, not to mention the world itself. 
Does the series deliver? And do we need to know the books to enjoy the series? In short, yes. 
Having seen the first six episodes that will begin unfolding this Saturday, I can say that the cinematically shot series lives up to expectations. In fact, since I've now read the first book in the series, it exceeds them.
Here are 9 things to know before you dive into the world of Outlander.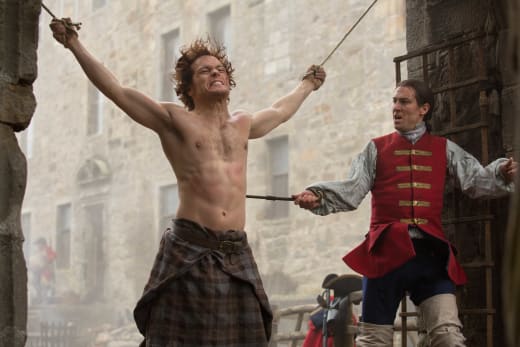 Let's Do The Time Warp!: Is Outlander a sci-fi drama masked as a period piece? Nope. The time travel element that takes Claire from the post-WWII era to 1743 lacks the big CGI effects that some shows revel in. Instead, she time jumps subtly; and while she does want to get back to her husband, Frank, the show doesn't become too involved with the science of things. 
Claire and Jamie: The romantic duo of this epic saga must have the kind of chemistry that keeps everything afloat and, thanks to Gabaldon's sharp vision and Moore's take on them, Claire and Jamie are perfect. You could say that the twosome switch gender characteristics, with Claire being tougher than the usual dame (even one that comes from the 1940s but that's what war will do to ya) and Jamie often oozing gentle vulnerability that makes him someone every one can - and do - fall in love with.
That said, they also balance out each other and where Claire definitely shows her softer side, Jamie is also one tough dude. And to Moore's credit in the series, we see their relationship develop uniquely and minus a lot of romantic drama traps.
Sam Heughan and Caitriona Balfe: ​Sure, the names are only starting to become more familiar with the current media blitz for the show's launch but watch for the two young stars of the series to become household names. Without their talent, chemistry and individual charm, Outlander wouldn't work but work it does. You'll root for their coupling and live through some of the horrific situations they'll find themselves in in season one. And with former model Balfe easily being deemed beautiful, the same can be said for the strapping and accessible Heughan. 
A Bad, Bad Villain: When we look back on great TV villains, Black Jack Randall needs to be added to the list. Randall, the past relative of Claire's husband (both roles played terrifically by Tobias Menzies, also seen in the current Honorable Woman series on Sundance), is one nasty SOB who thinks nothing of gut-punching women, lashing a man to death (or trying to) and doing everything he can to break the spirit of our hero, Jamie.
You'll be hissing at the screen with this one and Menzies shouldn't be overlooked for playing the earnest, tender Frank and then the controlled viciousness of Black Jack Randall. Bravo!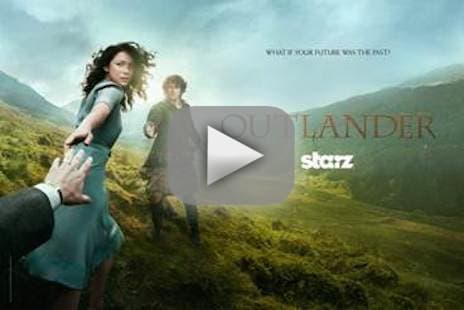 For Ladies Only?: With a female lead and a romance as a big part of the show, it's easy to write this off as some Harlequin TV movie but that's not what Outlander is at all. There are more men in the cast than women and Claire is something of a renaissance woman who speaks her mind but is also smart enough to understand the era she finds herself in. This is no damsel in distress story. Also, at Comic Con recently, creator Moore likened the early perception of Outlander to how his Battlestar Galactica revival was initially thought of for men only but we all know that was an incorrect assumption as well.
Voiceover: Some shows alienate the viewer almost immediately with a voiceover but others use it sparingly and only to give you vital information that the viewer needs. Outlander is definitely the latter. We hear Claire's voiceover often but it's never intrusive and only supports the action on the screen, never detracting from it. And you do learn things about what she's experiencing or what she knows that only adds to the richness of the show. 
To Read Or Not To Read: Truth be told, I watched the pilot episode before I read the first Outlander book but now that I've finished the first installment of Gabaldon's book series, I'm glad I did because, like any good book, it adds definite layers to what I'm seeing on the screen. That said, there are some changes in the TV adaptation but nothing that has disrupted the flow of the series at all.
In short, read the book if you want to dive in deeper but know that Moore's adaptation is near-perfect with the nuances between characters intact as well as the vivid descriptions of the world Claire now finds herself in deliciously translated to the small screen. Plus side to reading the books? You won't have to wait years to find out what happens next for Claire and Jamie.
Game of Thrones-esque?: If you're looking for another series that takes on the same kind of dark, somewhat miserable world that we're used to seeing in the HBO hit, you'll be disappointed. Sure, Outlander has both hot and steamy sex and intense violence but, outside the time travel element that takes Claire to 1743 in the pilot, the series is grounded deeply in reality. Plus, no dragons. The comparison between the two stops only with the fact that Starz would be thrilled if Outlander becomes as big of a phenomenon as GOT.
Watch NOW!: Bless Starz for understanding that not everyone subscribes to pay cable channels and offering the pilot episode for free a week before Saturday's premiere. If you haven't indulged yourself, go watch right now. 
Outlander premieres August 9th at 10/9c on Starz. 
Jim Halterman is the West Coast Editor of TV Fanatic and the owner of JimHalterman.com. Follow him on Twitter.