Switched at Birth Review: Bay Isn't Most Girls

Carissa Pavlica at . Updated at .
There is a burning desire to only cover half of Switched at Birth Season 3 Episode 20.
The portion of the program devoted to Bay, prom and standing up for friends was lovely. Watching Daphne continue to bite every hand that reached out to her was difficult.
So let's get the unsavory bits out of the way first.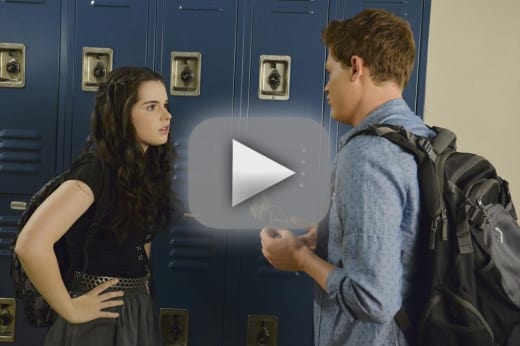 Even knowing that Daphne was ultimately unhappy because she never told Angelo she loved him when he was trying so hard before his death to reconnect with her wasn't enough to make me feel anything but disgust for her.
When someone does every single thing wrong there comes a point when you no longer care. I just don't care about Daphne. She ended the night with yet another string of "I'm sorry" to everyone who was coming to her aid. Well, that probably isn't going to make any difference to her future in the long run.
To quote Wes:
Regina: Her dad just died!
Wes: Does that give her the right to break the law? She cost me hundreds of thousands of dollars! She forced us into bed with Coto! This is your project too!
Daphne didn't make mistakes as a result of her grief, she committed crimes. She bought and took drugs, engaged in under aged drinking, vandalized and stole from her workplace. She did this all while having more than one hand extended to her to grasp onto for help.
She will be caught for vandalizing the East Riverside project. Even if Wes doesn't press charges, Nacho will likely tell the police she was involved and that will affect her probation, effectively revoking it if they feel it's warranted. She was also fired for theft of narcotics, which could have been avoided if she hadn't been so stupid as to grind them up in her kitchen. She could have taken them back and possibly none would have been the wiser.
I do not understand what the previews are showing, but with John, Toby and Daphne crying, I hope to hell someone doesn't take the fall for Daphne (I'm looking at you Toby!). She will have learned absolutely nothing from all of this.
Then there's Bay. 
Counselor: OK everyone, gather around. We're about to announce your prom king and queen.
Bay: Oh. Exciting. Let's see who the prettiest, most popular, most superficial couple in the school is.
Natalie: Cool!
Bay: This is a joke, right?
Surprise! Toby wanted to make up for the last time they went to prom, which didn't really end that well. He campaigned to make them king and queen and arranged for a limo and after party. Bay looked absolutely gorgeous in her Cleopatraesque dress but she just couldn't do it. Not when her friends were being penalized.
Now, I get the series wanting to make a statement about gender equality and all that, but the cold hard facts are that no school in the world would get away with initiating a dress code on the day of the prom! Dresses were purchased and tuxes were rented on the day tickets were sold. Parents would go crazy. That was my issue.
On the other hand, Bay looked adorable in her tux, Emmett carried on his love for her and everyone had a smashing good time at their own outside prom when the king and queen were denied entrance for inappropriate attire.
Bay's fierce loyalty to her friends even gave way for a little bromantic moment between Toby and Tank. It appears their friendship is for real and it's nice to have someone for Toby to hang around with. Tank was a decent guy long before things went wrong with Bay, so keeping him was a great idea.
If you've missed any of Daphne's out-of-control downward spiral, you can catch up when you watch Switched at Birth online.
Should Daphne pay for her crimes?
Carissa Pavlica is the managing editor and a staff writer and critic for TV Fanatic. She's a member of the Critic's Choice Association, enjoys mentoring writers, conversing with cats, and passionately discussing the nuances of television and film with anyone who will listen. Follow her on Twitter and email her here at TV Fanatic.