Boardwalk Empire Season 5 Episode 4 Review: Partners in Crime

Chris O'Hara at . Updated at .
Having endured Bill Compton's numerous flashbacks throughout the final season of True Blood, I was worried the repeated looks back at Nucky's childhood would wear thin on me. Such has not been the case.
The scenes featuring young Nucky this week on Boardwalk Empire Season 5 Episode 4 actually shed a great deal of light on what seems to be driving Nucky presently.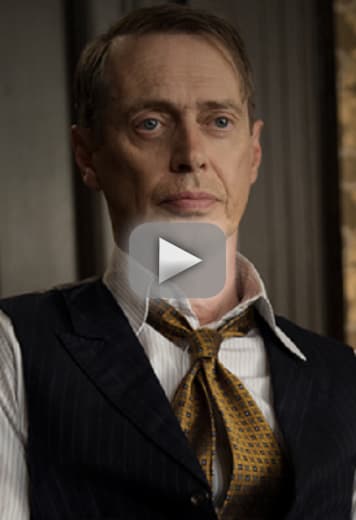 Before their falling out, Margaret had once been a good influence on Nucky, bringing out a rarely seen side of him. Getting Nucky's bodyguard, Archie, to speak was a reminder of how comfortable she can make men feel.
Nucky witnessed her charm a second time when he walked in to find Joe Kennedy and her discussing their Irish roots. Aside from his flirtations with Margaret Joe, of course ,was there to reiterate his decision to not partner with Nucky. 
Scotch and Rum don't really mix.

Joe Kennedy
However, learning Margaret was actually Nucky's wife was a surprising credit to the man he had just disappointed. He seemed to express as much through his parting advice to Nucky. It was as if reminding him about safety in numbers was an endorsement of Margaret and how he thought she was a good person for Nucky to have in his corner. 
It was great to see Margaret let her guard down around Nucky after more than her share of wine. They had some great banter, especially earlier when Margaret began to tell Nucky about her relationship with Arnold Rothstein. 
Margaret: He and I...
Nucky: Oh no. Really? No.
Margaret: Not that. Why does everyone assume? I helped him with stock information in exchange for an apartment.
Nucky: How'd you come up with that?
Margaret: I asked myself what you would do.
What transpired in Cuba had been foreshadowed with numerous scenes hinting at the growing political unrest there. Sally's death was a shocker, but along with Ronis's apparent flight from the country and Kennedy out of the equation, the stage has been set for Nucky to refocus his attention stateside. Having Margaret back at his side may be the first step toward Nucky achieving what he has really always wanted, a family, a real legacy. 
That was the point of the flashbacks featuring Sheriff Lindsey. Earlier Nucky told Eli of all the luxury he had witnessed over the summer waiting on the wealthy guests of the hotel. What he realized though at the Lindsey family dinner, was that it was that family life he was really craving. So much so, he was actually overcome with emotion at one point during their meal before the tension was broken by the sheriff's son telling his joke. 
At the heart of the life Nucky loathed so much was his father. Young Nucky wanted the sheriff to dispose of him like he did the man who had asked for the fresh flowers. Instead Nucky was imparted with some good advice and then empowered when he was referred to as Deputy Sheriff Thompson. Margaret assumed Nucky's plan of action regarding Caroline Rothstein would be to kill her. To her surprise Nucky informed her of his financial compromise idea and that she would be the one to bring it to Rothstein's widow. It was as if Nucky was channeling that moment in the sheriff's car as he entrusted Margaret with the task she previously thought was too big for her to handle on her own.
Margaret: Nothing changes does it? Men to guard you, plans within plans. Things you say and things you don't.
Nucky: Maybe I've had my fill.
Somewhere along the way, Nucky lost sight of his goal for a life like the Sheriff's and again became preoccupied with the material things he previously coveted in the hotel as a boy. No doubt this was in part to being taken under the Commodore's wing. The Commodore was a visionary when it came to business. As far as being a role model though, we were reminded of his depravity when he rolled out his map of Atlantic City for Nucky, covering up the photos of young girls that littered his desk. Calling to mind again how he and Gillian came to be involved. 
Nucky may be over his former life and thinking of a different future with Margaret, but Al Capone's call to him to close out the episode reminded us that he still has a lot to walk away from if he wants to.  Joe Torrio was called to mind as Al and Charlie poked fun at the former boss who actually did manage to leave his old life behind. Such a move might prove more daunting for Nucky.
As Nucky answered the phone and mistook the caller for Sally, Eli was all business on the other end telling him to hold for Capone. There were no other words exchanged. The lack of any fraternal chit chat reminded us of the sad state of their relationship, but also of the strong ties between Atlantic City and Chicago.  Being aligned with the hotheaded Capone is a recipe for a disastrous end to Nucky's run. 
Fuck Wallace Beery, I'm the real movie star. There's not a kid in America that don't know my name.

Al Capone
Van Alden once again shook off death in glorious fashion. No irons this time, but instead an emotional profession of allegiance to Capone. Now that he has been made by the agent building the tax case against Capone, it will be interesting to see if Van Alden plays a part in bringing down Nucky along with Capone in the end. 
Capone brutally killing his man who laughed at Luciano's Wallace Beery comment pretty much assured Charlie's dream of a united national crime syndicate isn't in the cards. It seems instead we're heading toward an inter-city showdown featuring some of the nation's most dangerous men. 
You can rule by fear or you can rule by love. Remember that if you're ever in charge.

Al Capone
We'll just have to wait and see how eager Capone is to hug it out.