Have you ever heard the expression/idea "If you can't solve your own problems, it's better to distract with someone else's?"
Masters of Sex Season 2 Episode 9 illuminated just how long Bill and Virginia have been running with this plan of action.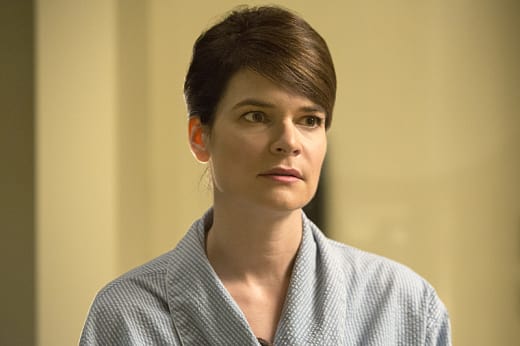 Yes they are doctors and researchers and their job is to work observe, diagnose, treat, and work with other people's problems. But I don't think I ever truly realized how much Bill and Virginia use their work as their masks.
Bill is obviously using Lester to try and find a cure for impotence. Betty is all too happy to help, of course. I do love Betty and her quips.
Impotence is the working girl's bread and butter, am I right Kitty?

Betty
Betty's humor is one of the best parts of this show because it helps lighten the mood. Between Bill constantly taking himself too seriously, and Virginia in total denial all the time, it can get tedious. However, this week they were both confronted with the truth and while it wasn't pretty, it was a relief.
It also led to one heck of an ending.
Bill has been uncomfortable since his brother arrived in town in Masters of Sex Season 2 Episode 8. Frank brings back memories. Interestingly enough last week we all realized that Bill based Francis Holden, his alias, on his own brother. 
Frank took Bill to an AA meeting on his sober anniversary, and started telling stories about how their awful father is what caused him to drink. The thing is, the stories he told were actually Bill's stories. How much of other people's pain do we soak up and make our own?
Elsewhere Virginia continued her foray into psychiatry while posing as Barbara at the therapist's office. The doctor correctly got suspicious of how little Virginia was emoting and the way she seemed to talk about things in the third person. As he pushed with more questions, she ended up talking about Dr. DePaul finding out about her affair.
Yes, she finally acknowledged and confronted it as an affair.
What things have we told ourselves that make it possible to do what we do in this room?

Virginia
This led to Virginia confronting Bill about their status and the fact that they are hurting Libby and are both adulterers. To quote Virginia "it hasn't been about the study in years." It really hasn't been about the study since it started, but if we're being less harsh then sure Virginia is correct.
Now that Bill admitted his impotence, the only question left is:
Will Bill admit to himself that it's an affair?
One thing is for sure, these two need to figure their own stuff out before they start treating people with a psychological component.
The past is not always the past as Bill says, as it often affects the present. And as Virginia described Barbara as "emotionally unprepared" she and Bill should've taken a deeper look at themselves.