The final scene of Mistresses Season 2 Episode 13 had me yelling WTF?!? at my TV. A pairing that sounded intriguing at the beginning of the season had me cringing by the end. 
Why?
Because Scott and Joss are so darn perfect for one another. Although I'll admit that there was a part of me trying to determine if planning their wedding was sweet or controlling. In the end I went with sweet. I think Scott really wanted to make sure getting married wasn't just another job for her, and he really wanted to be her husband.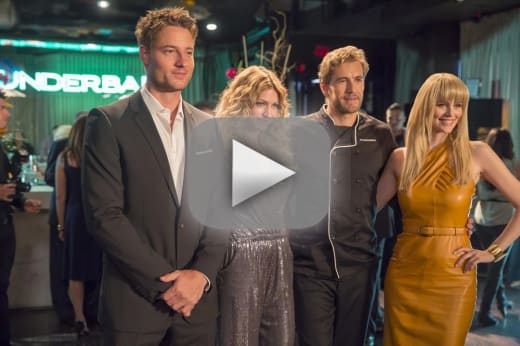 Then there was Harry…who responded to their horrible fight by kissing Joss and sending her into an emotional tailspin. When Joss returned again, she told Harry their friendship was over. That it had all gotten too weird and they needed a break. All the while her heart was breaking but was that because she was losing her best friend who was like a brother to her or because she was actually in love with Harry?
It was an episode where I wished that Joss and Savi were more open with one another. As Karen asked Joss in this Mistresses quote…
Karen: Did you tell Savi he kissed you?
Joss: Are you freaking high? Of course not.
I was wishing she had. Or at least wishing that Savi had told Joss about her moment of clarity. Either one of those revelations probably would have stopped the final scene from happening. 
It was all such a whirlwind for Joss. From her emotional turmoil over losing Harry to the surprise wedding, when Joss saw Harry moments before the ceremony, I could almost understand how she might have thought it was some sort of a sign. I could see why she him to find out why he was there. 
But then Harry was vowing his love for her and she's throwing herself into his arms and onto the sand. And WTF?!?  Leaving her own wedding to work out her feelings for Harry was one thing, having sex with him on sand in the dress she was suppose to be wearing while marrying Scott was quite another.
I like Harry but ugh! Scott and Joss are so darn good together. This is just so wrong! Someone make it stop.
So I'll stop…and move on to Karen who managed to give great advice to all of her friends but screws up her own life on a daily basis. I couldn't believe she punched Ben. If she should be angry with anyone it's herself because she's equally as responsible for having unprotected sex with a stranger as he is. 
Thankfully her test results came back negative but what's the big mystery? My only guess is that she's pregnant and then she'll have to figure out if the daddy is Ben, Jacob, or one of the other anonymous one night stands she hooked up with. Good luck with that.
Then there's April who earned herself a runner up in the WTF?!? department. I figured she and Daniel would eventually get back together but I didn't expect it to happen in the living room of the cabin with her daughter just steps away. That was a little too close for comfort.
On to Lucy. Poor Lucy. Karen was right. Leaving Lucy in the dark and letting her believe she'd lost a wonderful, loving father was the right thing to do. Unfortunately, that choice got taken away and now she's about to enter her teenage years knowing that her daddy was a drug dealing fraud who faked his own death to start a new family somewhere else. Can anyone say daddy issues?
On the up side of it all, we hit shirtless trifecta. There was Scott, Daniel, and Harry. Scott was my personal favorite. If Dom had been included we would have hit the shirtless scene jackpot.
Alright TV Fanatics. There were so many romantic pairings in question after this episode that I wish I could do more than one poll but I'll keep it to the most dramatic.
Who should Joss choose?
C. Orlando is a TV Fanatic Staff Writer. Follow her on Twitter.