We're still catching our breath from the Reckless Season 1 finale. Lee Anne had a partner in crime! Roy had another romantic offer he almost couldn't refuse and Dec got shot!
Our TV Fanatic Christine Orlando is joined by #RecklessAddicts Abby and Cheryl and Reckless Twitter fans @AnnaWoodNet and Travis "Reckless" Raydor to debate what Lee Anne is capable of, whether Roy made the right decision and who put a bullet in Dec?
------------------------------------------------------
Who do you think shot Dec?  
Abby: Who doesn't want to shoot him?  The list of suspects is long when it comes to someone like Dec.  I'm sure his wife has thought about it.  My guess would be Lindsay or Knox, but maybe we haven't seen the last of Lee Anne....
@AnnaWoodNet: Could be a number of people. My guess is the mistress, did she really leave town, or his wife. 
Cheryl: Hmm... I think you can list who didn't shoot Dec more easily... I'd guess his baby mama, she took that way too calmly! After watching again, who was calling Jamie at the end, her phone went off before Roy's did? Maybe someone that needs a defense lawyer?? If so, don't ever take that call Jamie….
Travis "Reckless" Raydor:  I think Lindsay shot Dec because she wanted him to accept their son that she was having. She was never okay with Dec choosing his wife over her and their child. I do not believe the obvious choice, Lee Anne because Dec helped her win. She was reckless but not a murderer.
Christine: Cheryl's right. Who didn't want to put a bullet in Dec is the easier questions. I could see Knox doing it if her were drunk and angry. Arliss too, if he blamed Dec for Lee Anne having sex on the hood of that patrol car. Depending how Dec's will is set up, Lindsay could have a lot to gain now that she's carrying his child. Honestly, this list could go on and on.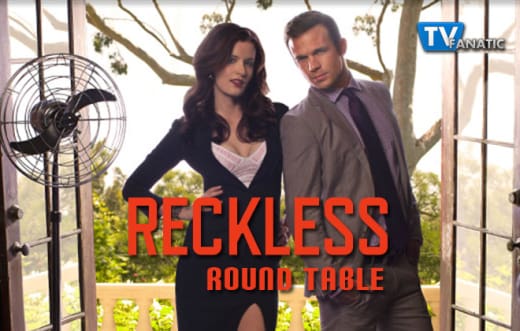 Is Lee Anne capable of loving anyone?  
Abby: Lee Anne only loves herself.  I cannot believe she got away with it and ended up with millions.  She is one of the most conniving, manipulative characters I have seen on TV in a long time.  It is a credit to Georgina Haig, who can portray Lee Anne as doe-eyed and vulnerable one minute, and a vixen or devious the next.  It kept viewers wondering all season long if she truly was a victim. 
@AnnaWoodNet: I think she might be but then again she's capable of a ton of manipulative behavior but I wouldn't think so right off.
Cheryl: LeeAnne has some serious daddy issues…And she's all kinds of messed up psychopathic, crazy. No, I don't think she can truly. 
Travis "Reckless" Raydor:  A tough one, I think no because if she conned and fooled Terry (a somewhat decent guy) and Arliss (a good man)- she had the tastes of two lives and she chose herself and money. So no, she is not capable of loving anyone but herself and her fortune she wrongfully won.
Christine: Wow! I loved Lee Anne. As Abby said, one moment she looked the doe-eyed victim and the next the manipulative seductress. She certainly has a talent for conning men. Is she capable of love? Maybe, but I don't see her ever putting someone else ahead of her own selfish desires.
Preston says he and Jamie's story isn't over. Is he right?  
Abby: Nope.  Not after Roy pretty much told Jamie he loved her.  Preston really will have to do "whatever it takes" to keep their story going.
@AnnaWoodNet: He might be. He might not be. I do think he has plans to get her back. 
Cheryl: Wishful thinking Preston! I do think he'll try to hang around Jaime waiting for an opening. 
Travis "Reckless" Raydor: Yep. If Jamie & Roy are on opposite ends again, Preston is her safety net whereas Roy is her fire, her passion. Their story is over if she chooses Roy.  If Ramie cannot be together because of their jobs- then Presamie will create their story where they left off.
Christine: For Jamie, yes. For Preston, he's still planning on fighting to win her back but is he really willing to be second best? Let's face it, Jamie chose Roy over him. Game over. But that doesn't mean Preston will go away quietly.
Did you ever suspect that Lee Anne and Dec were conspirators?  
Abby: No, that was definitely a jaw-dropping twist I did not see coming.  But it makes sense, since they both will do whatever it takes to get what they want. 
@AnnaWoodNet: Nope. Was honestly shocked by that.   
Cheryl: No, never saw that coming, though in hindsight, one scene that always has flickered in the back of my mind was the first scene with Lee Anne and Terry, after they had there fun with handcuffs, the way she changed so quickly when she said "Nice touch with the handcuffs Terry",and seemed like a whole different person  both to that scene and what we saw of her afterward. Just seemed like a flicker of a harder persona & has always stuck in the back of my mind.
Travis "Reckless" Raydor: NO! Out of all the things I suspected on this show- I never saw this curveball! The writers totally threw me this ball & I missed it. I was right about something being off with Dec, but not this! This was a good gotcha! 
Christine: I never saw it coming and I loved that the first time we saw them together was in a gorgeous church with Lee Anne lighting a candle. What a great backdrop to learn the truth about these two devious partners. 
Shelby wants Roy back. Did Roy make the right decision?  
Abby: Definitely.  It has been clear from the first episode that he is a true southern gentleman.  He even acknowledged that he always does the right thing.  He was given a chance to put his family back together for his daughters' sake, but I am so happy he went with his heart instead and chose Jamie.
@AnnaWoodNet: I don't see why he did or why he didn't. I'm sure the two of them can co exist for the sake of the two girls. 
Cheryl: Roy absolutely made the right decision, Shelby was right when she said he didn't really fight for her she had just "checked the boxes" of what he thought "was doing the right thing-marrying the right person." Jaime and Roy have chemistry to spare, they burn bright, whether friendly conversation or when they truly go at it on a legal basis. Plus there is mutual respect and admiration; they pay attention to each other so keenly, they can judge each others moods. And based on that last scene, they have plenty of passion when it gets to the bedroom! Oh baby! That scene was soooo hot! I'm not ashamed to say I've watched it a few times! (plus watched even more to try to see who was on the caller ID on  Jaime's phone at the end, yikes I think it did say LeeAnne, oh no!) (and yes it was tough to watch that over and over :p)
Travis "Reckless" Raydor:  Heck yeah! Roy made his intentions clear about Jamie and swore to make her fall in love with him. Shelby was Roy's past, but Jamie is his present & his future! 
Christine: I could understand Roy contemplating getting back together with Shelby for the sake of those two girls...but it would be a marriage without love. He's crazy about Jamie and they both deserve the chance to be happy. I'm pretty sure all of the Ramie fans out there cheered when he finally declared that a gentleman wouldn't leave the woman he loved waiting alone.
What was your favorite scene of the two-hour finale?  
Abby: So hard to choose just one!  I loved when Jamie confronts Lee Anne at the pool.  Sunglasses couldn't hide Jamie's contempt and anger.  
@AnnaWoodNet: I liked the way the reveal scene with Lee Anne was played out. Great tv. 
Cheryl: I can't limit it to one! In the first hour, the scene right before court where they plan a Paris trip, so sweet, so hot! You could see the Cinderella in Jaime's eyes, the girl from wrong side of the tracks, meets the handsome prince who wants to sweep her off her feet and take her to Paris, that she admitted he was knocking her off her game, obsessed over it all night, pretty big. The scene w/judge Moss ending w/ them looking like little kids who did something wrong. In hour two - when Terry was on the stand, I just couldn't help it but love him for "I consent, you can swab me" haha. But the long awaited moment when Roy came to her door, even if it was an hour late. "A gentleman doesn't leave the women he loves waiting alone" RIght choice Roy! That scene was soooo soooo hot! WOW!!!! So well choreographed and shot, that was quite a payoff, but not enough, we need to see more of them together!  He really is a knight in shining armor. I could go on and on...
Travis "Reckless" Raydor: My favorite scene was when Terry was on the stand & and told THEE TRUTH! Then he proceeded to give his sperm sample to prove he had sex with Lee Anne just 15 minutes ago. Classic Terry: Reckless & Ruthless!
Christine: I've got two. Terry on the stand telling the world that he and Lee Anne had sex 20 minutes ago was classic. I couldn't help but laugh when he told them to swab him, he'd give his consent. Then of course, there's Roy coming to Jamie's at the end. Very hot. If only they hadn't been interupted!
Who wants to see Reckless season 2?  
Abby: I do!!!  CBS, please don't leave fans hanging after tonight's finale.  This a great show that had me hooked from the first episode when Jamie put out inkless pens for the jury.  The chemistry between Jamie and Roy is off the charts.  The show has been so much fun to watch this summer and has the potential to be a hit if given more than just one season.
@AnnaWoodNet: I do. I just want to know what happens next. 
Cheryl: Absolutely and right away, cannot wait until next summer (though I'll take next summer  if I have to,  just to get more #Reckless) Come on CBS, "Who shot Dec", imagine the build up, please bring on Season 2. #RenewReckless. I have fallen in love with this show and these characters, I really hope there is a season 2, plain and simple
Travis "Reckless" Raydor:  What a question! I do and so do the millions of fans! I have tweeted #RenewReckless so many times on Twitter its a shame! We need another season to find out what happens to Ramie, who shot Dec, what happens to LeeAnne and Arliss, will Preston find love again, will the SCPD get new cops, etc. So many unanswered questions! 
Christine: Reckless has been sexy, steamy summer fun and I've enjoyed every minute. They left us with some great stories. Who do I have to bribe at CBS to get a pick up for Reckless season 2!
C. Orlando is a TV Fanatic Staff Writer. Follow her on Twitter.