Revenge Season 4 Episode 1 Review: Born Again
Miranda Wicker at . Updated at .
After what felt like a lackluster third season, I readily admit I was not excited about tonight's Revenge Season 4 premiere. The dread I felt as I waited for the clock to strike 10:00 p.m. was the kind of dread one feels before heading to the dentist for a root canal. 
But then Revenge Season 4 Episode 1 happened and I'm eating crow and, dare I say it, excited for what's to come this season! That was a stellar and solid way to kick off what should be an interesting season, answering the question "Where does Emily Thorne go from here?"
The answer?
There is always revenge to be had, so Emily Thorne goes right back to business.
First of all, let's go ahead and give a round of applause to both the set and costuming departments for a job well done with Grayson Manor and Emily's outfits, shall we?
Not that Grayson Manor didn't look spectacular on Victoria's watch, but Emily's really stepped it up in terms of the decor in that mansion, and that red strapless dress she wore during the meeting with the yacht club president and his wife? Spectacular! Not to mention the gorgeous dress shown in the photo above. 
Clearly more happened during the premiere than a few fancy outfits and a face-lifted set, but those things just sort of grabbed my attention right out of the gate.
What also grabbed my attention was the fact that this episode had no flash forward like each of the previous three seasons. What major event are we working toward right now? We have no idea. There's something refreshing about the fact that, instead of trying to piece it together as we go, we can watch and see where it takes us instead.
If tonight was any indication, we're in for quite a wild ride.
Emily Thorne can't stop seeking revenge, so Victoria's challenge just fanned the fires of Emily's revenge-loving heart. She is, to quote Nolan, "a unique, bloodthirsty snowflake" hell bent on making people pay, even when those who've been wronged haven't asked for her help. 
This brings about a new side of Emily, a more emotional side, that she'll have to grapple with as the season progresses, and emotional Emily has always been a treat in seasons past.
Watching her walk through her old house and remember Aiden was heartbreaking, and the moment was punctuated by the tension of whether or not she would discover David Clarke lurking in the shadows. 
What is it that he wants? Why is he there? His motives clearly aren't to reunite with his daughter or he would've taken the opportunity.
The reveal that he's still alive was one of the most shocking in the show's history so there's a sense of urgency where his story is involved. We've believed him dead for three years now. We're going to need a very good reason why he isn't and soon. 
That Victoria Grayson is the first person to whom he's revealing himself is curious. Has he carried a torch for her all this time? That he would seek her out above and before his own daughter?
So far, he's not shaping up to be the doting father immortalized in Amanda Clarke's young mind. 
Consider my curiosity sufficiently piqued on the David Clarke front, and on the Jack Porter is a cop front, too.
I can't say I saw that change coming, nor am I sure I like it, but it does give him something to do besides wear flannel and hang out in the Stowaway, so there's that. 
It will be interesting to see how he grapples with what he knows about the ways in which certain people work outside of the law while still trying to be a "good" guy who maintains a sense of professional integrity. He knows too much and has seen too much and it won't be long before he's faced with helping a friend break the law.
Given that he's already helping Charlotte avoid being arrested for using cocaine, he's already there.
(Side: Why did he bring his Commanding Officer to the Hamptons party? Did that seem ridiculous to anyone else or just me?)
Charlotte, dumb, naive, useless Charlotte, is doing cocaine, thanks to Gideon, and she's also a little bit crazy. Taking Carl just so Jack would feel afraid was straight up nuts, a play right out of her mother's handbook. 
Victoria's escape from the psych ward was masterfully played, but we've come to expect nothing less than Queen V using every possible opportunity to her own advantage. While it's ridiculous to believe an umbrella could hold those doors closed long enough for her to flee the hospital, on foot, crazier things have happened, right?
As for Daniel Grayson, what is there to say? He's living above his means, drinking, having sex with random women, and being a prat. Same Daniel, different season.
Don't forget, you can watch Revenge online via TV Fanatic anytime. Use it when necessary to curb your own needs of vengeance.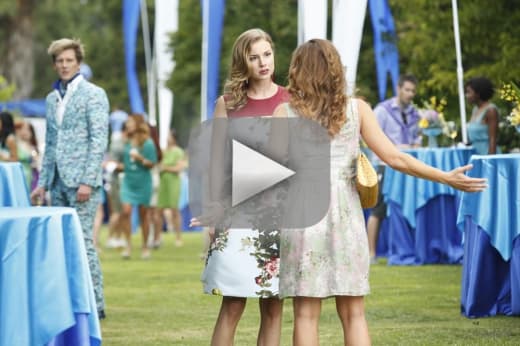 What did you think of Revenge Season 4 Episode 1? Are you sufficiently intrigued by where this season will take us? Why did David Clarke reveal himself to Victoria first? Sound off in the comments and look for the Revenge Round Table to come soon!
Miranda Wicker is a Staff Writer for TV Fanatic. Follow her on Twitter.