Royal Pains Season Finale Review: Your Team
Chandel Charles at . Updated at .
Another summer in the Hamptons has come to a close.
But as much as things can change, Royal Pains Season 6 Episode 13 reminded us that plenty of things still say the same.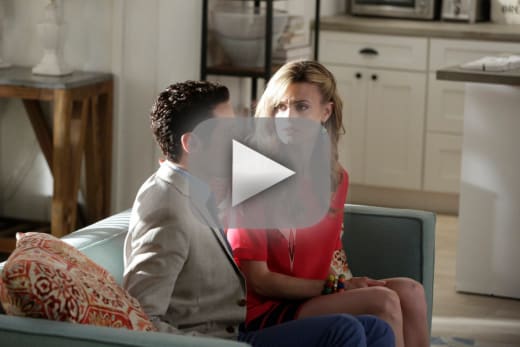 Royal Pains Season 6 started with Divya celebrating the first birthday of her baby girl, Sashi. And while she spent the season exploring who she is as a woman and a mother, by season's end she was figuring out custody issues with Rafa and running into an old flame.
One can only wonder what it means that both Divya and Rafa find themselves single and reuniting at this particular point. It almost feels like things are coming full circle.
I think that point can be said most definitively for Hank and Evan, who, as they were reminded by little sister Emma, do a great job when they team up. I love watching them reconnect, as it seems like Hank and Evan have been distant from one another and struggling to fall back into a rhythm.
Some of this can be attributed to the fact Hank really does keep what he does with Boris separate, and it certainly didn't help that Hank jet-setted with Boris around the world for the better part of a year at the expense of his relationships with those he left behind. As we know, though, Hank wasted no time trying to rebuild them upon his return, even as he discovered their long-lost sibling.
As for Emma, she realized - thanks to her big brothers - that there are no unforgivable sins among family members and she has acquired full membership as a Lawson! Good to see her trying to reconnect with Eddie on her own terms and that she'll move forward with the love of brothers and many others behind her.
The same is true of Evan and Paige, who ended their marriage counseling with their apparently un-credentialed therapist and are ready to move forward on their own.
One person who isn't quite ready to move on yet is Jeremiah, whose emerging realization of the changes that have taken place within himself caused him to seek Bob out, despite knowing he was without credentials. I absolutely loved getting to watch him grow this season and can't wait to see what else will be in store!
I would be remiss to end this review without a shout-out to the Khloe Kardashian/Scott Disick cameo - which I loved and wanted more of, as well as a big welcome back to Paul VanDyke, who I was hoping could stay around a bit longer.
Overall, a solid way to end the season that included a great moment for Evan and Hank at the end that reminded us that they are a team for life!
That aside, who were you most excited to see this week?
C. Charles is a TV Fanatic Staff Writer. Follow her on Twitter.