The Big Bang Theory Season 8 Episode 3 Review: The First Pitch Insufficiency

Stacy Glanzman at . Updated at .
They say the third time's the charm, right? After two under whelming opening installments, The Big Bang Theory Season 8 Episode 3 provides us with a hilarious and charming installment. 
The episode was divided into two very funny main storylines:
Howard is invited to throw the first pitch at a Los Angeles Angels game.
Sheldon and Amy double dated with Leonard and Penny.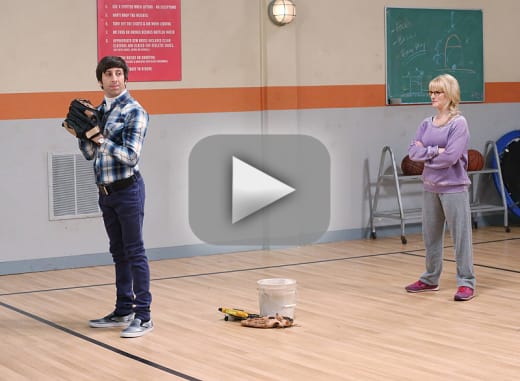 Howard's fear that he'll embarrass himself throwing the first pitch is warranted. There has been plenty of evidence that athleticism is not a strong suit for these boys (and no Sheldon, Quidditch does not count). Luckily, he has a supporting wife and best friend willing to help him practice. 
The scenes at the gym were brilliant. Howard's funny little dance as he winds up to take his first pitch and Bernadette screaming at him had me laughing out loud. I hope Bernadette's high pitch bossy scream never gets old. Howard's reaction to just how far sixty feet is made me really feel for him. He has a major feat ahead of him! 
As he continued to practice (and fail miserably) I really wondered how this was going to end up. Would he somehow magically get the pitch across home plate? That seemed pretty doubtful. No, the ending the writers gave us was much better.
As Howard unveiled the Mars Rover prototype, I cheered right along with the crowd. As much as I would have liked to see the Mars Rover actually deliver the ball across the plate, watching it inch along the field as everyone booed with impatience was even better. 
The second story line of the episode (I won't even call it the B-plot as it seemed both plots had equal time) took us on a double date with Sheldon and Amy and Leonard and Penny. 
Of course, Sheldon would think his relationship with Amy is better. As Leonard said, he has to be the best at everything. It did give us one of the funniest lines of the night though: 
Is this when he says bazooka or something?

Penny
Really, Penny??!? After eight years you don't know Sheldon's signature catch phrase? You've certainly caught on to the three knocks and know "Soft Kitty" by heart. 
The dinner date was hilarious. I have to disagree with Sheldon on one point, though, curly fries are the best! 
As funny as the dinner banter was, even better was getting to see some relationship growth in Leonard and Penny. Thanks to Sheldon's relationship test,  Leonard and Penny are able to admit to each other that they're both a little scared and that's okay. Sure, they may not have everything in common, but being able to discuss their feelings openly means that they really do have a successful relationship.
After the first two episodes focused so much time on Penny's new pharmaceutical job and Sheldon switching fields, there was no mention of either tonight. Would you have liked to check in on how the new positions were going or were you glad for the break from those stories? Did you like the episode as much as I did or were you disappointed? 
Your regular reviewer, Carla Day, will be back next week. Until then, watch The Big Bang Theory online!
Stacy Glanzman was a staff writer for TV Fanatic. She retired in March, 2019.