The Blacklist Season 2 Episode 2 Review: The Monarch Douglas Bank

Sean McKenna at . Updated at . Comments
Red Reddington is clearly willing to do whatever it takes to get his wife back. Although I'm not sure if that includes giving up his best fedora.
The Blacklist Season 2 Episode 2 was something of a shell game as Liz and Ressler zeroed in an important bank, the Monarch Douglas Bank, before finally realizing just what the future Ultron was actually up to.
Because the battle against Berlin was all about leverage, and Red, through his crafty ways, was able to get at his enemy's assets.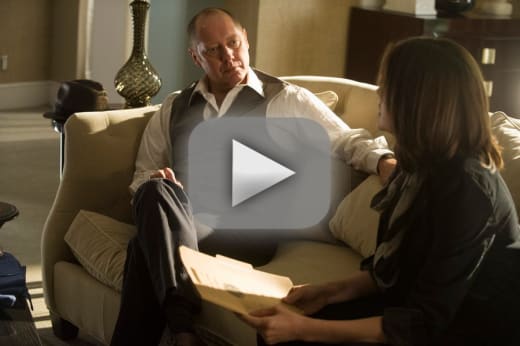 That only included a bit of double crossing, bullets flying and Red's just in time entrances and phone calls. He just seems so calm and calculated all the time, doesn't he?
But there do seem to be moments that crack his confident demeanor, like the great face off (or bench sit off) between Red and Berlin. Watching the well-dressed opponents chatting it up at Coney Island with the ferris wheel in the background on a bright sunny day seemed the exact opposite of those two characters' personalities.
And Berlin is wonderfully villainous, even if at times he grazes a certain campiness. The guy cuts off body parts, has a hook for a hand and is fueled by revenge.
So to see Red and Berlin finally getting off the phone but to see each other in person was a big deal. And I never really felt like one quite had the upper hand over the other. However, Red blowing in Berlin's face, might, just might have tipped the scales in his favor.
I'm still a bit unsure why Red would go through all the trouble to save his wife, a woman he hasn't seen in forever, beyond the fact that she was his wife. There has to be more. There's got to be some solid and interesting backstory between the two.
The way he just looked at her without taking off her blind during the trade said so much without him saying a word. But I want to know more.
Red's certainly a determined guy, a man who doesn't have "friends," but his motives always seem backed up with specific reasons and plans that there's got to be at the very least some emotional connection.
Red does have a heart.
Though, his relationship with Liz is changing. She is definitely pushing for an upper hand, and she did essentially have his fate by the end of the hour. I love how she seems far more in control and less of Red's puppet.
I bet it's that new hair cut that's really turning her around.
And might there just be some sparks flying with her and the super slow reaction-timed Ressler? Can she have a love life in this intense world of super villains, deadly secrets and dangerous days? Look what happened with Tom.
I am a bit disappointed that Mary Louise Parker, who plays Red's wife, didn't really have much to do but look frantic and run around. Perhaps she'll get more to do as the season goes on? To get an actress like Parker and not use her as more than a pawn between Red and Berlin seems like a waste.
But it does make me wonder about the two's common enemy, that mysterious foe that put Berlin onto Red. There's so many strings and directions the show could be pulled or followed that I'm wondering just where The Blacklist Season 2 is headed.

The pace continues without slowing down, the action and twists are only increasing, new characters are mixing their way into the story, and the mystery behind Red (especially as it pertains to Liz) keeps me intrigued. I mean, who knew Red liked to pamper himself with a pedicure after disposing of his enemies? There's always something new to learn when it comes to Red.
Should Red have revealed himself to his wife? Are we rooting for Liz and Ressler to be together? Sound off below and be sure to check out the Red and Berlin bench chat when you watch The Blacklist online.
Sean McKenna was a TV Fanatic Staff Writer. He retired in May of 2017. Follow him on Twitter.