Boardwalk Empire Season 5 Episode 7 Review: All Hands on Deck

Chris O'Hara at . Updated at .
Robert Hodge addressed the public to kick off Boardwalk Empire Season 5 Episode 7. He informed them about the war being waged by what he termed an army of hoodlums.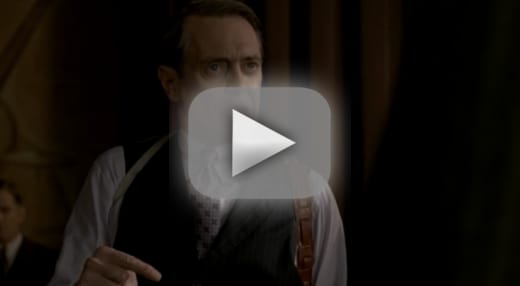 The tension of the time was evident and we saw both Charlie and Meyer acting rather jumpy. Not sure if it was intentional or not, but there were two allusions to The Godfather in this sequence.
The first was Charlie nervously jumping up out of the barber's chair as he was about to get a shave and then Meyer got startled when his man walked in carrying a box of cannoli.
Nucky was also on edge. Unlike Maranzano, he wasn't content to sit back and wait for Charlie to make a mistake. He decided to force the issue and sent his men to capture Benny.
Benny wasn't above using the husband of his mistress as a human shield, so I guess I shouldn't have been surprised when he jumped Willie during the exchange and returned him to Charlie and Meyer. The trio of old friends seemed unflappable, none calmer than Charlie.
Charlie: What do you want?
Nucky: A meeting so we can settle this bullshit.
Charlie: I'll meet you at your funeral. We can talk there.
Nucky seemed to realize there was no use trying to reason with this new breed of criminal. Charlie and Meyer have no respect for the old guard, for the way things are supposed to be done. It is why they have been able to accomplish all they have, but it also may be their undoing. John Torrio tried to give them some advice on how to handle their next move, but was summarily dismissed.
Perhaps Torrio will approach Nucky hat in hand and offer up a way to get to the young bosses. That ism of course, if Nucky still wants to. If he does, his list of partners took a big hit when he made good on his promise to kill Maranzano.
It was a fitting end for the man who so often likened himself to Caesar.
Some may have thought Nucky was a bit hasty to offer up Atlantic City to save Willie, but he is the closest thing he has to a son of his own. Charlie took advantage of that and used it to leave Nucky grasping at straws.
Eli: What did you just do?
Nucky: I don't know.
Despite Nucky's befuddlement in the wake of the blown hand off, I still think he has an exit strategy planned. His aggressive short selling of the Mayflower Grain Corporation may prove to be a means to an end. If not for him, then possibly a way to ensure Margaret and the children are taken care of financially if he is gone. 
Willie still has a part to play I think despite only one episode remaining, or perhaps Eli seizes one last chance at redemption. Either way the scene they shared right before Willie was taken was great. Willie did all he could to check his emotions. His bottom lipped quivered as he spoke to Eli who literally had flies buzzing around him. Later they both were lucky to make it out of that road side showdown alive. Sadly Mickey wasn't so fortunate.
Lost was one of the best supporting roles the show has featured. Always good for a laugh and ever dependable, Nucky lost a good one there on that road. Seeing how quickly he lost control of the situation may have had Nucky wondering if he himself would make it out alive. He later on summed up the uncertainty of death well when he spoke with young Joe Harper.
Joe Harper: What's it like, when you see it?
Nucky: You tell yourself it's quick, but you don't know. You can't know until it's you and then you'll never tell anyone.
Back in 1897 Nucky finally got what he had wanted, but gaining access to the Commodore's inner circle only came after Sheriff Lindsay handed over his badge to him. Lindsay had been a simple apprentice once, but was seemingly seduced by the Commodore's power and aspirations like Nucky was. Lindsay no longer could stomach covering up the sins of his boss. Nucky picked up where Lindsay left off for his and Mabel's betterment.  However, what he took on, would haunt him the rest of his life as indicated by the letter from Gillian.
If Nucky comes to her rescue, I wonder if she might play a part in taking down Luciano. Given their history, would he be impetuous enough to allow her to get close to him again? Boardwalk mirrors the history books in many ways, but it is not a given the way the finale will play out can be found there.
We'll find out soon enough as only one episode remains for all our questions to be answered. How do you think it will all end? Share your thoughts and don't forget you can always watch Boardwalk Empire online.