Hell on Wheels Season 4 Episode 10 Review: Return to Hell

Sean McKenna at . Updated at .
I've really been enjoying Hell on Wheels Season 4.
There seems to be such a faster pace, a tone that feels very within the Western genre, and Cullen Bohannon is at the forefront where he belongs.
This character makes the show, with a presence that is so commanding whether he's pissed off or just trying to quietly go about his business.
And I love that the season has seen Cullen's rise from just trying to work to provide for his family, to pretty much setting the deals for the town and becoming the new face of the law.
He's here to build the railroad and keep the problems at bay.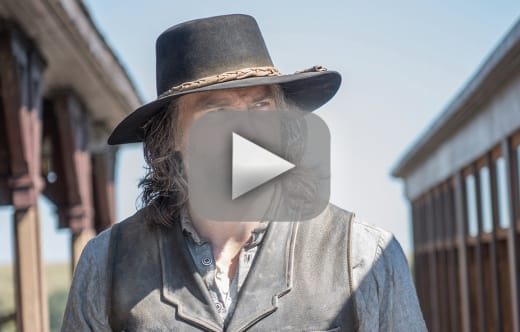 So to see him march back into town in Hell on Wheels Season 4 Episode 10, effectively getting John Campbell to pretty much back down and then taking up a more official title is a big deal.
I know I've said it before, along with my praise for the character and actor Anson Mount, but Cullen has come so far from his days since Hell on Wheels Season 1 Episode 1.
We love him, the town seems to love him (Durant is even following his lead), so it makes sense that the train job would ride to the end of the line on his shoulders.
But I was glad to see that the dangerous thorn in Cullen's side, Sydney Snow, was not ready to give up the fight.
And he so easily could have left with his life, but he just had to go and try and burn the church down. He's not a nice guy.
So while the visual shots of the blaze in the church was fantastic, the outcome was not.
Ezra, the boy who didn't speak, was killed in the fire because he tried hiding under the floor boards.
I am glad that instead of seeing a charred body or something like that, we were left to the horror of the event through the characters' reactions.
My only real problem with feeling the same emotions like the loudly grieving Ruth was said exactly in her statement to Cullen. We really didn't know him at all. Sure, he was there on the show and any child's death is a tragic one, but it wasn't nearly the same as seeing a character such as Elam die.
But it was felt for Cullen and Ruth.
And I found it interesting that, while Cullen was willing to put a gun to both Mickey and John Campbell's heads, he admitted that he was done killing. I find that hard to believe, but I understood that his emotions were running high right after the death.
Getting what presumably would be a standoff between Syd and Cullen was an exciting one. Right in the middle of town, man to man, a final face off that would force Cullen to not only exact revenge but eliminate a threat to the railroad, the town, and himself.
But to have Ruth so coldly kill Syd?
Shocking? Perhaps. Did it make sense? I'm not so sure.
We could certainly argue that her connection to Ezra and sadness at not seeing him get to grow up while she was essentially his mother may have been the tipping point. But would she actually kill him, and pretty much without blinking?
It also goes back to the fact that I feel the show has had trouble with its female characters in giving them more to do, allowing them to grow as characters. I guess it would certainly put more focus on Ruth and her new trajectory (it can't end well for her, can it?), but I still am trying to wrap my head around her killing a man in the way that she does.
It just seemed so un-Ruth like.
Like I've said before, though, death seems to find its way into this town, and Syd's time had come whether it was Ruth committing the act or anyone else. I loved his addition to the show as it was a very fresh part to the story.
Though now that gives room for the Swede (with a weird new haircut and lack of bushy beard) to make his return. If anything, I can only hope that his face off with Cullen puts some final closure between those two. It's been a long time coming and any more dragging out of their confrontation lessens the dramatic impact.
But even with some of my criticisms or questions, it doesn't detract from the fact that I've been far more invested and entertained by the characters and direction of the show this year. I'm really hoping these last few episode charge full steam ahead and drive us towards a finale that caps it all off in the best way possible.
Sean McKenna was a TV Fanatic Staff Writer. He retired in May of 2017. Follow him on Twitter.