Did you fall in love with Jane The Virgin?
A lot of you must have, considering last Monday's Jane The Virgin Season 1 Episode 1 helped give The CW its most watched Monday in nearly three years. It also built on its lead in of The Originals Season 2 and did better than Beauty and the Beast did in the same time slot. All good news.
Jane The Virgin Season 1 Episode 2 airs tonight and one thing I gathered from sitting down with star Gina Rodriguez is that she's going to do everything she can to ensure the show's success.
The engaging star talked to me about what drew her to play Jane... the love triangle her character will find herself in between Michael and Rafael... how she'll get along with Rafael's duplicitous wife Petra... and which of her dreamy co-stars is a good kisser. Let's see what she had to say: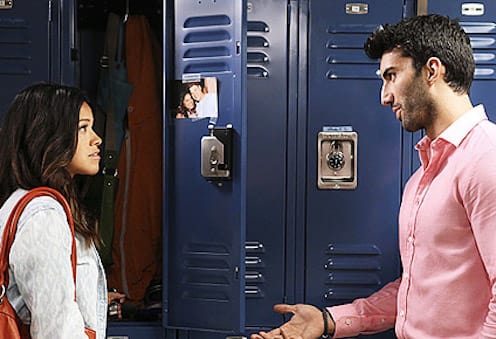 TV Fanatic: What did you connect with initially when you first read the script?
Gina Rodriguez: To be very honest, I clicked with the writing. It was so easy to memorize. This is before I was ever going to book it. This is in the beginning when you get the sides and you're looking at them and you haven't read the script and when things don't flow you're like, 'Oh, God.'
But it fell in my head and I was like, 'Oh, it's just so easy to speak. This writer's really good. I really like this writer.' And then they sent me that because I was like, 'Oh, can I get a script? Because it would be helpful. Some of these scenes just seem like I need to know information.' So, they sent me the script and I was like, 'Wow. This woman's brilliant. Jennie is brilliant,' and I was like, 'And this is a white woman writing this?' I was like, 'You better recognize!'
And so authentic! But that also goes to show that you don't need to be of the same ethnicity in order to relate. It's a human story. It's a human story. Jane could be anybody. Jane could be any ethnicity. We would just change the Spanish to English and that would be it.
But I fell in love with that. The writing was so great that when I went to the audition, I crushed it and it's funny because I remember doing lines with my homeboy, Ramses, and he's reading this and he's reading the lines and just checking to see if I have them memorized and they're spewing out and he's like, 'Yo, this is you.' And I was like, 'I know, dude. This is me.' Mind you, I'm definitely a little more rough around the edges than Jane is, maybe a little tougher than Jane is.
TVF: And you've got some guns on you! (Rodriguez is wearing a sleeveless dress and also has a very strong handshake!)
GR: You know what I'm saying? But there's that wholesome, not corny nature about Jane because I feel like "wholesome" has a negative connotation. She just wants to have her shit together the way she wants to have her shit together.
TVF:  I think that's what I liked about it the most is that Jane's not dumb, which is great because the writers could have gone that route and just had her be a real innocent and like, 'I don't know what's happening!'
GR: I also love the idea that she wants to have sex. Who doesn't want to have sex? She's clawing. [Jane and Michael] claw at each other but it's a decision she makes and she's going to stick by it. It's a promise she made to herself and whether that promise is virginity to some people or something else, it's your gift. It's whatever gift that you hold very true and dear to your heart.
TVF:  Will Jane's virginity be an issue moving forward? Even though she's pregnant she's still a virgin!
GR: I know. A lot of people keep asking that! My boyfriend totally thinks pregnant women are hot all the time and I'm like, 'Really?'
TVF:  Michael and Raphael are very different guys, but I'm sensing there's definitely going to be some kind of love triangle building there, which is great. I talked to Brett Dier last year from Ravenswood and he's a nice guy…
GR: ...and great kisser.
TVF:  Is he a good kisser?
GR: Yes.
TVF:  But you kiss Justin as well.
GR: I do. Thank God they're both taken and I am, as well. We all stay very focused. We talked about that the other day. We're like, 'Oh, my God. We're all taken,' and it was like 'yes, everybody on the show has a girlfriend and it's great.' We all stay focused. No tomfoolery in our set.
TVF: Will that triangle heat up pretty quickly into the show or is it going to be more of a slow burn kind of thing?
GR: I don't know. They've kept the writing very hush hush because they know a lot of us have been asked, "Where is this going?" You want to know where we're going. But I definitely see a triangle. I definitely see Jane seeing Michael as the stable choice, as the real choice, as the plan, plan, plan. And she sees Raphael as the dream.
TVF: Tell me about the relationship Jane will have with Petra. I'm guess their lives are going to get even more intertwined.
GR: Yes and what's beautiful, I think, about the nature of her being the villain is that you can tell where it's stemming from. You can see her insecurities [and] you're going to see more of her and her mother. You're going to see the reason why her and her mother have that relationship and then you're going to see why Petra does the things she does.
And they're not necessarily literally naturally malicious, but they're more like, 'Mom, I've got to live this life' and it's the same kind of plan Jane has for herself. And so that's what you do. I mean, that's what I think is so brilliant. You see the way people just have their own set of rules for their life, have their own goals, and no one is better than the other. It's just what works for you.
TVF:  So it sounds like Jane and Petra are really not as different as we might think they are which is very smart writing.
GR: They're not. Jane and Petra are going to obviously know each other because Petra's the one that spoke with Jane and was like…you don't see that interaction but you hear her saying, 'I spoke to Jane and she wants it to grow in a loving family and a this and a that.' Petra knows what she's doing and I don't think that Petra necessarily isn't in love with her man.
I think she's in love with Raphael, but I think she also knows the deterioration that's happening. And for me, it's a different kind of deterioration where it's like, 'This was always my plan' and we're both kind of veering off our plans and how to be. So they're not much different and we all desire the same thing - love, success, dreams, protection - we all want those things. The way we get them are different.
Jane The Virgin Season 1 Mondays at 9/8c on The CW.
Jim Halterman is the West Coast Editor of TV Fanatic and the owner of JimHalterman.com. Follow him on Twitter.