The Blacklist Season 2 Episode 3 Review: Dr. James Covington

Sean McKenna at . Updated at . Comments
Liz is definitely more on edge, more hardened in The Blacklist Season 2 than compared with The Blacklist Season 1.
Ressler knows it, Red knows it, even Cooper knows it. And while it's great to see her taking charge, focused on her missions and not just being a pawn in Red's games, there is concern that she could go too far.
Though, back in The Blacklist Season 1 Episode 1, she was a rookie agent thrust into a world that was both dangerous and mysterious. Now she's become so much deeper in it that she's had to adapt or be swallowed by it.
There's also a fire being fueled by her desire to uncover certain truths, and all the while Tom continues to haunt her.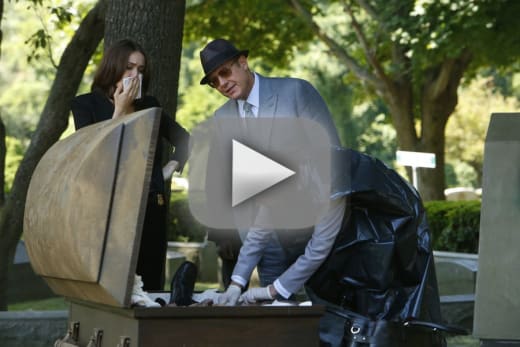 I had a feeling it was just a dream when Tom showed up in The Blacklist Season 2 Episode 3, bearded and pointing a gun at her. But "dream Tom" did bring up some good points before Red so quickly disposed of him.
Just what is Red hiding? What's the deal with Naomi? Will Red kill her when he's "done with her"?
It also feels like the show is really hinting at Tom's return, though I'm curious as to what capacity that might end up being.
That conversation with Naomi? Whether it reveals fruitful information or not, it will happen.
But an ending where Naomi gets to see Red (they both acknowledged they look different, whatever that means) and then hits him means there's even more to their relationship than just an ex-wife. Liz has to be connected. Might Naomi be Liz's mom?
Still, this new, more determined Liz is going to get her answers, even if Red deflects and points her in the direction of another person on his list.
Of course, the hour gave us an intriguing blacklister in the form of a doctor bypassing "wait lists" and saving lives of both children and criminals. The repossession of organs was a freaky way to get things started, but Dr. Covington never felt nearly as menacing as the various villains we've seen Liz and the FBI go up against.
As for Red, he doesn't seem to have any problems dispatching those trying to get in his way. It's something we've seen countless times, so it wasn't really the biggest surprise to see him do it again.
I did almost hope that someone finally was able to pull a fast one on Red (not that he wouldn't get out of it), but he's always always ahead of his competition. Well, maybe except Berlin.
Even Liz pointed out that Red isn't someone who can just be found. If he's found, it means because he wanted it. He's the chess master in this game of life.
Though, his reveal that he was in control the whole time -- that cool and collected demeanor, paired with a great anecdote to illustrate the importance of loyalty -- worked perfectly. He always has some great stories to tell, but can you even imagine a little Red?
I have to say, I really loved the addition of Mr. Vargas (Paul Reubens of Pee Wee Herman fame). There was such a creepy vibe with the character from the turtleneck to the hair (so not real). But it was also funny seeing him freak out when Red killed someone before letting him leave the room. He doesn't want to be around all the blood.
I hope this character sticks around as I'd like to see more interactions with Mr. Vargas, especially because he's already made such a memorable stamp on the show. How many turtlenecks do you think he has? And might he be the one to save Liz from her new gun-toting "nice guy" neighbor? Who the heck is that guy!?
If there's one thing The Blacklist does well, besides letting James Spader capture an audience's attention, it's keeping things interesting with that ever-enticing mystery. And I'm looking forward to seeing it further revealed.
What did you think? Is Tom alive? Will Liz get to know the truth? Sound off below, and watch The Blacklist online to see it all again.
Sean McKenna was a TV Fanatic Staff Writer. He retired in May of 2017. Follow him on Twitter.