The Millers Season 2 Episode 2 Review: Reunited and It Feels So Bad

Tanya Moat at . Comments
Tom and Carol are ready to sign on the dotted line and end their marriage on The Millers Season 2 Episode 2, but Nathan is worried that doing so will wreck the relative harmony that currently exists.
The Millers last year rightly got a lot of bad press for its fart jokes and over-the-top antics that often came across more annoying than funny. The jokes weren't always there and the heart was missing, which are two key ingredients to a really good comedy.
Divorce isn't an easy topic, but The Millers were able to consciously uncouple with grace, humor and heart tonight.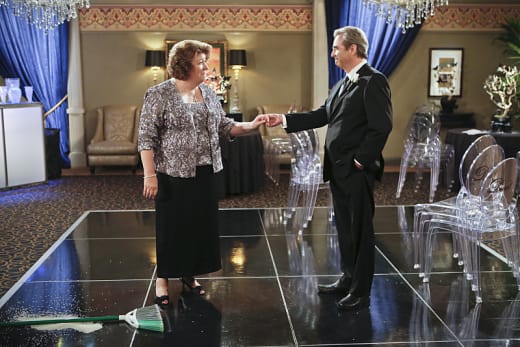 Tom and Carol argue over finances and Debbie suggests they finally divorce and separate their finances. They agree, while Nathan is hesitant. Things have been relatively peaceful between his parents and he's worried the divorce will bring back the tension and fighting. He's probably right.
I'm all set for my Mom and Dad to sign the divorce papers. The snacks are out. You're getting the drinks, and I've got 911 on speed dial.

Nathan
Tom and Carol seem perfectly happy to sign the paperwork until they discover it's a no-fault divorce.
What is this? No fault divorce? This isn't a no fault divorce! We need one that says his fault divorce.
Both refuse to sign the paperwork and Carol decides to move back in with Tom since they are still married. Nathan and Debbie give them 24 hours before going to check on them. The living room is a wreck. They assume the worst, but discover it's beyond even their worst nightmare: Carol and Tom are in bed together.
Okay, that wasn't really a surprise and not just because I saw it in the previews. This isn't the first time Tom and Carol ended up in bed together since separating. But this time, it's a little more serious. They want to give their marriage another try after discovering that the things that used to drive them crazy are now gone.
Carol: Wait a second, are you watching Game of Thrones? You can't like Game of Thrones.
Tom: Why not?
Carol: Because I like Game of Thrones, and we haven't agreed on a TV show since the OJ Trial.
Nathan, Debbie and Kip all agree it's a bad idea. But Tom and Carol are adamant and to show them the error of their thinking, Kip hosts a Wrongly Wed Game with Adam and Debbie, Nathan and Ray and Carol and Tom as the contestants. Of course, Tom and Carol get every answer wrong but one. Soon the fighting begins and the divorce is back on.
Now here comes the heart, and I won't deny that I was surprised by how well they did this scene. Tom and Carol often act like caricatures, rather than real people, but not here.
Our marriage almost last 50 years, and we're going to end it with a couple of signatures, like we're renting a car.

Carol
Tom gets down on one knee and asks Carol to divorce him. She accepts. It's both a sweet and funny moment. They decide to have a formal uncoupling with Nathan presiding and end their marriage with one last dance together. 
My fingers are crossed that the future episodes will contain both heart and humor. What did you think of tonight's episode? Did you enjoy the surprisingly sentimental moments? Hit the comments below and let me know your thoughts. And don't forget, you can watch watch The Millers online via TV Fanatic and get caught up on all their wacky family hi-jinks.